Top 10: Guys who pose the biggest problems for the Top 4 unbeatens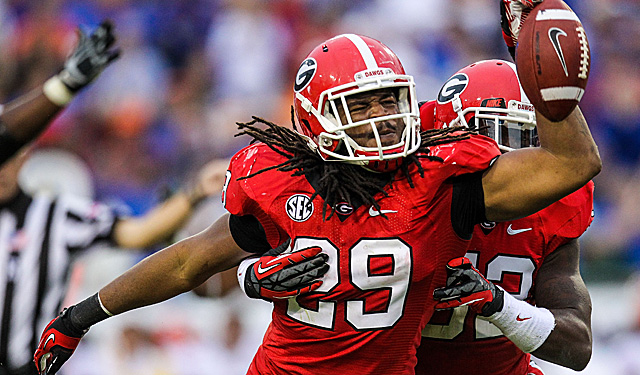 Could Jarvis Jones and his big-play skills be a roadblock for Bama in the Georgia Dome? (US Presswire)
With only a few weeks remaining in the season, could we possibly have a top four of unbeatens in the BCS rankings? The odds are against it, but all four survived last weekend. As we sort through what's left before the BCS rankings actually matter, let's look at which guys pose the biggest problems for those top four unbeatens.
1. Marqise Lee, Southern California, WR/KR: The 6-foot-1, 200-pound sophomore has blossomed into the country's best wideout in what has been an otherwise downer season at USC. Lee will be a huge challenge for Notre Dame on Nov. 24. He has eaten up opponents and amassed a remarkable 877 all-purpose yards the past two games. ND's biggest weakness on defense is its secondary. And if you look at the Irish's schedule, they simply haven't seen many very good WRs. Lee's not only a good receiver, he's a great one. Jalen Saunders, Oklahoma's gifted slot receiver, caught 15 passes for 181 yards against ND in only his third game for OU. It'll be interesting to see what Lee could do on this stage.
More on college football
Related links
2. Johnny Manziel, Texas A&M, QB: Johnny Football has devastated most SEC defenses that he has faced and put a scare into Florida and LSU, too. Bama's up next, but this heavyweight challenge is a road game. Bama has seen dangerous running QBs before. The Tide shut down Denard Robinson and Michigan, but Manziel is a much better passer than the Wolverines' star; he also has a better group of wideouts and plays behind a better O-line. Against LSU last month, turnovers proved to be Manziel and the Aggies' downfall. If he can cut down on the mistakes, things could get very interesting in the second half considering that Nick Saban's team is coming off a very emotional, physical victory over LSU in Baton Rouge.
3. Mark Banker, Oregon State, defensive coordinator: The Beavers have some firepower on offense. But the big key when archrival Oregon rides into Corvallis on Nov. 24 will be whether Oregon State can slow Chip Kelly's attack. Banker is one of the sharper defensive minds on the West Coast. His team is No. 5 in the country in run defense. The Beavers have derailed some very good running backs already this season (Wisconsin's Montee Ball, UCLA's Johnathan Franklin and Utah's John White among them). Can they do something similar to Kenjon Barner and the explosive Ducks?
4. Jarvis Jones, Georgia , LB: Awaiting the Crimson Tide in the SEC title game could be the home-state Dawgs and the most disruptive defensive player in the country. The Dawgs also have plenty of talent around Jones, too. In seven games, Jones has 15 tackles for losses. And since he has gotten healthier in the past few weeks, he has been dominant. Jones' knack for making big, momentum-flipping plays (he leads the country in forced fumbles with five) gives the Dawgs a puncher's chance in the Dome.
5. Devonte Fields, TCU, DE: Collin Klein and K-State has to visit Gary Patterson's squad this weekend. Patterson is a masterful coach. What kind of shape with Klein be in on Saturday? The freshman big-play man (14.5 TFLs, 8 sacks) will be someone that K-State has to keep an eye on.
6. Stepfan Taylor, Stanford, RB: The Ducks face the physical Stanford team on Nov. 17. Oregon gave up 92 yards to USC's Silas Redd last week in the shootout in the Coliseum. Taylor's a talented RB, too, and runs behind a tougher line than USC has. The Ducks, No. 38 in the country in run defense, could have their hands full with the all-purpose back who ran for 100 yards at Notre Dame and piled up more than 200 yards of offense against USC. In the past two meetings vs. Oregon, Taylor has run for more than 200 yards combined (99 yards and 113 yards), but the Ducks did win both meetings.
7. David Ash, Texas, QB: For all the drama surrounding Mack Brown's team this fall, Texas still has lost only two games. Without A&M on the schedule, the regular-season finale remains a big one, at K-State on Dec. 1. The Horns are coming off a solid 31-22 win in Lubbock, where Ash was sharp, throwing three TDs and Texas avoided turnovers. Ash has a bunch of potent weapons to work with, starting with a deep group of RBs and WR Mike Davis.
8. Matt Barkley, USC, QB: Like Lee, Barkley has a chance to get two more shots to spoil an unbeaten's season. Lee obviously would be of major concern in a rematch with Oregon in a potential Pac-12 title game. I'll say in this one, though; Barkley is the pivotal guy. Barkley, remember, led USC to a big win at Autzen Stadium last year, snapping the Ducks' 21-game home winning streak. Last weekend against Oregon, he put up big numbers, but he also had a few key misses. If he's sharper next time, maybe the Trojans can win the shootout.
9. Nick Florence, Baylor, QB: The Bears are only 4-4 and have lost four of their past five games, and they'll host K-State on Nov. 17. Florence has a bunch of good talent at his disposal, and he has thrown for more than 300 yards in seven games this season while also giving opponents problems with his legs. Art Briles' program is no cupcake.
10. Tre Mason, Auburn, RB: It has been one long nightmare for the Tigers, who are winless in SEC play. Mason has been the closest thing this team has had to a bright spot. He's coming off a 152-yard rushing performance in the win over New Mexico State. Can the Tigers shock their archrival in Tuscaloosa? Crazy stuff often happens in the Iron Bowl, right? But this crazy?