Ex-Miami assistants to be hit with NCAA's dreaded 10.1s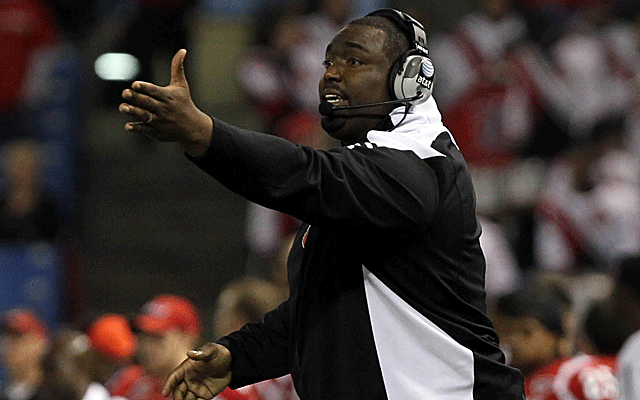 Clint Hurtt is expected to face NCAA allegations for conduct while with Miami.
(US Presswire)
On Monday afternoon, colleague Jeff Goodman reported that former Miami Hurricanes and current Missouri basketball coach Frank Haith is expected to be charged with unethical conduct and failure to promote an atmosphere of compliance as related to the NCAA's investigation into the Nevin Shapiro scandal. Another active coach who is expected to be informed of hefty allegations from the NCAA investigation when the Notice of Allegations is delivered, a source told CBSSports.com, is former UM assistant Clint Hurtt, the current Louisville defensive line coach/associate head coach and recruiting coordinator for the Cardinals.
"They are pretty much throwing everything at him," the source said of Hurtt. "They have him on essentially everything that was brought to the attention of the NCAA, some of which has been publicly known because of (Shapiro) but there are some other things that did not involve Shapiro that they're charging him with."
The source added that after the NCAA began investigating Shapiro's claims, student-athletes detailed other violations allegedly committed by Hurtt and Aubrey Hill, another former UM assistant who had resigned from Florida weeks before the start of the 2012 season. The coaches are expected to be cited for "unethical conduct," better known in NCAA circles as a violation of Bylaw 10.1, said the source. Among the charges the NCAA will allege against the former UM football assistants are impermissible transportation, impermissible lodging as well as impermissible benefits, the source said.
Hurtt, in his third season at Louisville, has been integral in coach Charlie Strong's re-building of the Cardinals program. In 2011, Hurtt was even hailed by ESPN.com as its National Recruiter of the Year for his role in helping Louisville land standout quarterback Teddy Bridgewater, among others.
Goodman also reported from another source that the three assistants previously on Haith's staff -- Jake Morton, Jorge Fernandez and Michael Schwartz -- each will receive unethical conduct charges. Morton is currently at Western Kentucky, Fernandez left Marshall after last season and Schwartz is on the Fresno State staff.
Those involved in the case will have up to 90 days to respond in writing before a hearing in front of the Committee on Infractions, which likely will be held this summer. A decision on the penalties will be handed down to Haith, his staff and those involved in the football aspect of the investigation anywhere from 4-6 months after the hearing. The notice of allegations was expected to be released as early as Tuesday, but sources told CBSSports.com that it could be withheld for another week or two possibly because of procedural questions.
The investigation began nearly two years ago after Shapiro, who is currently serving a 20-year prison sentence for a $930 million Ponzi scheme, told Yahoo! that he gave thousands of impermissible benefits, primarily to football players, from 2002 to 2010.