Gunner Kiel leaving ND hardly stunning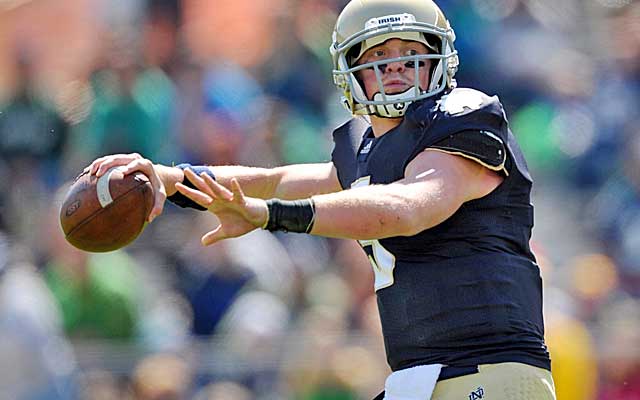 On Thursday night, word came that former blue-chip quarterback recruit Gunner Kiel intends to transfer from Notre Dame, according to Irish Sports Daily.
The news of Kiel leaving Notre Dame hardly seems surprising. After all, he's the same highly touted QB who committed to home-state Indiana only to de-commit and then commit to LSU, but then he bailed on the Tigers, too.
One coach at a powerhouse program told me that Kiel's representatives contacted him about the possibility of transferring last month, but the coach told them he wasn't interested.
There have never been doubts about Kiel's physical tools, but his intangibles have left some college coaches skeptical about the 6-4, 210-pounder. And, another 180-degree career turn -- this one potentially happening before the Irish go through spring practice -- probably only adds to that skepticism. Thursday's news reminded many of Les Miles' infamous comments that Kiel didn't have "the chest and the ability to lead a program."
In an interview with CBSSports.com in early January, Kiel did a good job diffusing any connection to that odd Miles recruiting sidebar. "The whole thing with Coach Miles and me not making up my mind is kinda funny to look back and think about how dumb and immature I was and how sloppy I was with the recruiting process," he said. "But at the same time, I thought I was just doing what I thought was best for me. I can't get mad at Coach Miles for what he did because I probably would've done the exact same thing. I respect him, and I still think the world of him. I'm not gonna throw him under the bus. I still respect him, and I love coach (Steve) Kragthorpe. They were so good to my family."
It seemed to be a stretch to think Kiel would overtake Everett Golson, a redshirt freshman who blossomed in 2012, helping lead the Fighting Irish to the BCS title game.
Kiel said all the right things at the BCS Media Day to indicate he was going to be patient and see how things developed in South Bend. Then again, was the quarterback really going to delve into transfer talk a few days before his team played for a national title? Still, seeing the QB leave before having the chance to compete in spring ball is a bit surprising. Whether Kiel transfers out now or three months from now, he'll still have to sit out the 2013 season if he goes to another FBS program, barring an appeal.
On that day, Kiel talked about what "an honor" and "privilege" it's been for him to be a part of that Notre Dame team and how much of a learning experience it all had been. "I feel like I've gotten a ton better since when I first arrived," Kiel said. "I didn't understand the terminology, the signals or coverages. I've made huge strides. I couldn't have asked for better coaches and the quarterbacks have helped the most. We push each other to get better.
"I just have to be patient and strive to get better each day and realize that anything can happen. I hear that talk a lot (that I'm gonna transfer), and people are going to have their opinions and are gonna talk, but at the end of the day, I gotta do what's best for me and I've gotta get better."
We heard something similar from another touted former QB recruit on the eve of his team playing for the BCS title -- Phillip Sims about a year ago at the same time, and sure enough, Sims ultimately ended up hitting the re-set button, too. In his case, that meant leaving Alabama for Virginia.
It'll be interesting to see what Kiel's next move is and whether he can eventually back up his recruiting hype.