3 to Watch: The 'Trout hits New York' edition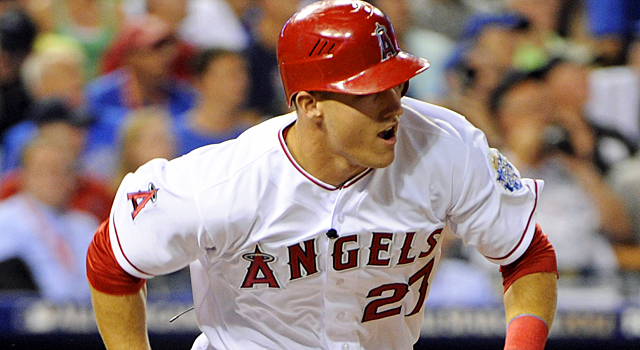 Trout has helped the Angels get back into the thick of the AL West race.
(U.S. Presswire)
Mike Trout's teammates say he loves the big stage.

So this weekend should be great.

Trout's Angels have the best record in baseball since April 28, the day he was called up. The Yankees are just behind them, second-best in that 66-game span.

So this weekend should be great.

One of the best stories of the first half. Two of the best teams of the first half.


The 20-year-old Trout got a chance to show off at the All-Star Game, when he singled, walked, stole a base and was the only American Leaguer to reach base twice. But he didn't get into the game until it was already 8-0, so you may well have missed him.

He'll be playing full games this weekend, as will Mark Trumbo, which is why the Angels are a lot different from the last time they were in New York. Back then, Trumbo was a part-time player, and Trout was still in Triple-A.

Trout's debut this season was on April 28. Trumbo has been in the lineup for all but two games since then, and the Angels have been every bit as good as they expected to be.

"Hopefully we can pick up where we left off [before the break]," Trumbo said.

Trumbo, who plays next to Trout in the outfield and lockered next to him at the All-Star Game, is convinced that Trout is a "definite difference-maker."

He's also convinced that the bigger the stage, the better Trout will be.

"He kind of relishes that," Trumbo said. "He rises to the occasion."

The first trip to Yankee Stadium is a big occasion for a kid who grew up in southern New Jersey, idolizing Derek Jeter. Trout was a Phillies fan, but he made the two-hour drive to the Bronx a few times as a fan, to see Jeter.

He doesn't deny that this weekend's series is special.

"It's always a big deal," he said. "You want to approach it as just another game. But you know it's not."

He's right. This weekend should be great.

On to 3 to Watch:

1. C.J. Wilson dropped out of the All-Star Game because of a blister, but manager Mike Scioscia announced Thursday that Wilson will start off the second half in Angels at Yankees, Friday night (7:05 ET) at Yankee Stadium. Wilson has been a big part of the Angels' success, too. The Angels have won eight of his last nine starts, and he has a 1.64 ERA in that span. He'll face Hiroki Kuroda, who blanked the Angels for eight innings back in April, in the Yankees' home opener.

2. Wilson started back-to-back games for the Angels in May in Texas, because of a long rain delay that ended his first start after just 22 pitches. Zack Greinke will go him one better, starting his third consecutive game in Pirates at Brewers, Friday night (8:10 ET) at Miller Park. Greinke started last Saturday in Houston, but he was ejected just four pitches into the game. So he started again Sunday, going the first three innings of a game the Brewers won 5-3. Now he'll start the first game after the break, becoming the first big-league pitcher in 95 years to start back-to-back-to-back games in the same season. The more interesting question is how many more games Greinke will start for the Brewers after this one. This next stretch of games will help the Brewers decide whether or not to sell, with the Angels, Rangers, Braves and perhaps more teams already in line if they decide to deal Greinke.

3. The Red Sox expect to get Jacoby Ellsbury back this weekend. Carl Crawford is once again on a rehabilitation assignment in the minor leagues. We know from the Phillies' example that getting stars back from the DL doesn't guarantee success (Philadelphia is 1-10 since Chase Utley returned). But we also know that the Red Sox are still right in the playoff race, just 2 1/2 games out of the second wild-card spot at the break. That spot could well come down to Boston and Tampa Bay, which makes their nine remaining head-to-head meetings even more important. That includes Red Sox at Rays, Saturday night (7:10 ET) at Tropicana Field, when Clay Buchholz returns from the DL to start for the Sox, and All-Star David Price starts for the Rays.