The Yankees style may or may not play in October, but at least it should get them there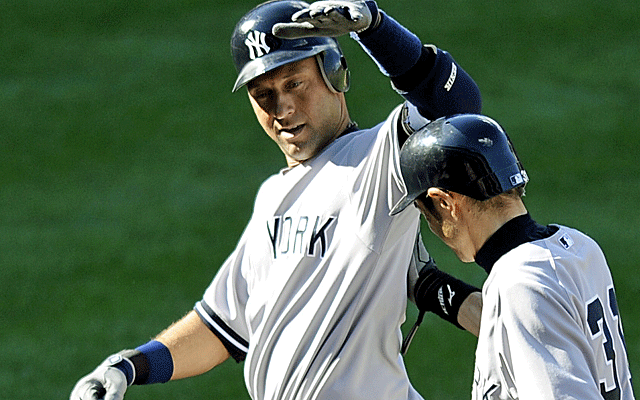 Danny Knobler expects Derek Jeter and the Yanks to score enough runs to make the playoffs.
(AP)
BALTIMORE -- The Yankees are old. The Yankees are slow.

The Yankees hit. The Yankees hit home runs.

But will it play in October?

We argued that for weeks in New York. We argued it all summer, because it was a given that the Yankees would get to October.


More on Yankees-Orioles
Related links
The new reality is that September matters for this team, because what was once a 10-game lead shrunk to zero on three different days in the last week.

The good news for the Yankees: Their style should play just fine in September.

It did Sunday, in a fairly important 13-3 win over the Orioles. It should the rest of the way, as the Yankees play most of their games against teams that will take October off.

In these games, the Yankees should hit enough to survive their speed (have Alex Rodriguez and Russell Martin yet arrived at first base on their Sunday double plays?). In these games, the Yankees should homer enough to survive their starting rotation (which now owns a 6.61 September ERA, thanks to what should be Freddy Garcia's final Yankee appearance).

The Yankees did enough to go 3-4 through a week of road games against the Rays and Orioles, not enough to add to their lead in the American League East, but enough to end the week having held onto it.

They're one game ahead of the Orioles, and two games ahead of the Rays, with the knowledge that the Orioles and Rays play each other this week, and the knowledge that their own schedule lets up for most of the rest of the month.

One game?

"That's all you need at the end, too," manager Joe Girardi said, sounding less testy than he had Saturday.

"You look at where we are," Curtis Granderson said. "First place."

In some ways, Granderson is the typical Yankee. He slumped as they slumped, so badly that Girardi left him out of Sunday's lineup. But just as they ended the week in first place, he ended it with 35 home runs and 86 RBI, after contributing a home run, a two-run single and a two-run double in the final four innings.

Granderson described his slump and revival as "just baseball being baseball," and there's some truth to that.

Good hitters eventually hit, and the Yankees have enough of them that they should hit enough to survive this month. They have enough of them that even on a day like Sunday, when Granderson doesn't start because he's slumping and Mark Teixeira doesn't start because he's once again hurting, the Yankees end up with 13 runs.

"When days like this happen, it's a great thing," Raul Ibanez said.

The Yankees could be encouraged by Granderson, and they can be encouraged by Rodriguez, who homered twice and doubled once in the Baltimore series, and also reached base three times in five plate appearances Sunday.

They could be encouraged by Joba Chamberlain, who got key outs in relief Sunday, and by Andy Pettitte, who now seems on track to rejoin the rotation next week.

They still have reasons for concern, beginning with Teixeira, who missed 10 games with a calf injury and still appears to have come back too early.

"I thought it was just tight, but obviously it was still healing," said Teixeira, who will have an MRI on Monday and is again out indefinitely. "I thought I could play with it 80 percent. I couldn't."

Then there's CC Sabathia, who is absolutely relied on to be the No. 1 starter. He hasn't pitched like it often enough this year, raising questions about whether he's healthy.

Sabathia strongly insists that he is, and two scouts who watched him in his poor performance Saturday night said they saw no sign that he isn't.

"I just didn't make pitches," Sabathia said, in an assessment the scouts agreed with.

Sabathia is crucial to the Yankees' chances in October. He's important in September, too, but this team should hit enough to overcome so-so starting pitching this month.

"If everything is clicking right, we can be [good enough]," Granderson said.

Plenty clicked on Sunday, and this rout only included two home runs, accounting for just three of the 13 runs the Yankees scored. That was enough for the Yankees to improve to 75-40 when they hit at least one home run, as opposed to 4-21 when they don't.
There should be more home runs, and more big Yankee run totals, in the games to come.

Will it play in October?

There's plenty of time to get back to that debate. What matters now is whether it can play in September, and the answer is that it should.