Rays owner on new, more unbalanced MLB schedule: 'It's terrible'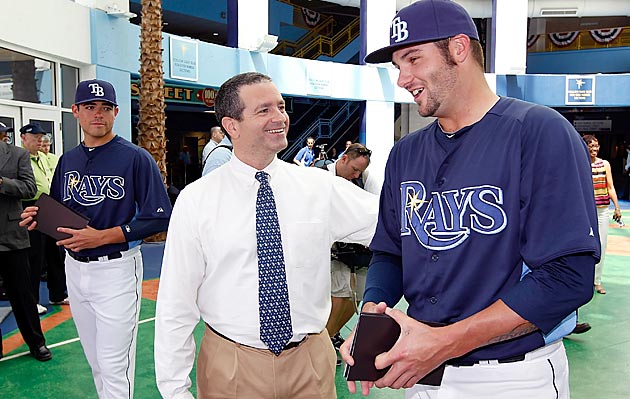 Stuart Sternberg isn't happy about all the intradivisional games his Rays will have to play. (Getty Images)

BALTIMORE -- No schedule is going to please everyone, but baseball's 2013 schedule was guaranteed to upset the Rays, even before they knew what their road trips would look like and how many home weekends they'd have in the middle of the summer.
The problem was simple. The problem was 19, as in the number of games they would be playing against each of the other teams in the American League East.

That's 19, or one more than under the schedule used for the past several years.

"It's terrible," Rays owner Stuart Sternberg said Wednesday.

The problem, from the Rays' perspective, is that a severely unbalanced schedule puts them at a disadvantage in the race for one of the two available wild-card spots. Besides competing with the big-payroll Yankees and Red Sox for the AL East title, playing those teams 19 times a year will often give them a tougher schedule than wild-card rivals from the other two divisions.

That won't be true every year, but because of the payroll disparity between divisions, it will often be true.

"Look at the schedule the Tigers are playing," Sternberg said. "I'd like to take my chances playing that schedule."

Sternberg understands that some form of unbalanced schedule is inevitable, and he doesn't even mind it.

"It's the degree of the imbalance," he said. "Playing them 14-15 times a year, or 12-15 times, would be fine.

"This is so out of kilter."

The Rays have survived with the schedule that has them playing the Yankees and Red Sox 18 times each. The Rays won the AL East in both 2008 and 2010, and they won the wild card last year. They entered play Wednesday night only two games behind the Yankees and Orioles, who were tied for both the division lead and the second wild-card spot.

Sternberg and the Rays supported the decision to add a second wild-card team.

"We were very much in favor," Sternberg said. "Our goal is to play meaningful games in September, and this gives us a better opportunity. But this gives us a more difficult chance to win the World Series."

The reason for that, from the Rays' perspective, is that the big-budget Yankees and Red Sox are most often going to be favored to win the division. While the Rays have won the AL East twice, they believe they're more likely to be a wild-card team. Under the new system, the two wild-card teams are guaranteed merely a one-game play-in, and thus have a tougher route to the World Series.

For the Rays, that's much more acceptable than 19 games a year against the Yankees, and 19 against the Red Sox.

"You watch the Olympics and you see how they have a staggered start [in the 200 meters]," he said. "Maybe that's what we should have, a staggered start."