Days after losing a child, Neshek finds a way to take the mound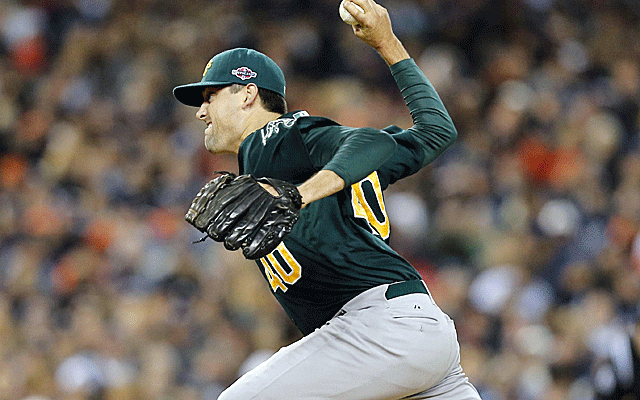 Pat Neshek pitches the A's out of a late jam.
(Getty Images)
DETROIT -- Eight pitches, that's all.

Eight pitches that didn't decide a game, didn't decide a series, didn't decide a season.

Eight pitches that meant so much more than any box score can show.

"I got chills, man," Brandon Inge said Saturday, thinking back to those eight pitches Pat Neshek threw in the seventh inning.

You've probably heard Neshek's story by now. Perhaps it touched you. Perhaps you shed a tear. Perhaps you shared in the amazement that a father who lost his first-born son just one day into his life was coming to rejoin his baseball team just days later.
More on A's-Tigers
Related links
But Neshek didn't fly from Florida to Detroit simply to get away, or simply to be with his A's teammates as they opened the American League Division Series against the Tigers.

He was here, and he was here to pitch. And when it came time for A's manager Bob Melvin to call on his first relief pitcher of the series, Melvin called on Neshek.

"We wanted to try to get him into a game sooner than later," Melvin said. "I don't know that there's any great time to potentially get him a soft landing in the playoffs.

"But he came and did a great job."

He did, and I can't imagine any Tigers fan could feel bad about the two outs Neshek got. I can't imagine any person -- baseball fan or otherwise -- could watch Neshek pitch or listen to him speak and not feel greatly for this 32-year-old and his family.

"I was thinking about him the whole time," Neshek said. "[Friday], I said when I got on the baseball field I wouldn't think about it. I was thinking about it."

This is a human story, but it's a baseball story. Neshek convinced his wife Stephanee to name their first child Gehrig John Neshek, and yes, it was for Lou Gehrig.

"Just a baseball name," Neshek said. "It was different. I think it pays homage to a great baseball player."

Neshek isn't a great pitcher, but he's a good one, and he helped the A's this year with a 1.37 ERA in 24 appearances after they acquired him from the Orioles. Neshek had been stuck in Triple-A, because the Orioles thought he was too similar to Darren O'Day, and didn't want both of them in the same major-league bullpen.

The move west was difficult at times, but nothing like what Neshek experienced this week. How could anything be like finding out that a child has died, not even 24 hours after he was born?

Stephanee convinced him that it would be better for them to be in Detroit, so they made the trip. They were in a rental car driving to the team hotel Friday, when A's assistant general manager David Forst called to say the team wanted to wear a patch with "GJN," Gehrig's initials.

As he walked off the mound at the end of the seventh inning, Neshek tapped that patch.

"I think what hurt most was that [Stephanee] wanted Gehrig to see me pitch," he said.

He pitched, in a game that there's no question he'll never forget.

"I said if I did [get in the game], I'd just give it my best," Neshek said. "Anything to help the team out.

"I think this really helps me and my family. I'd have liked to have won the game, but I was glad I got in."

How he managed to do it, we'll never know.

"He's a brave man," Inge said.

There's no doubt about that.