Carlos Ruiz comes back Sunday, but will he be enough to save Phillies?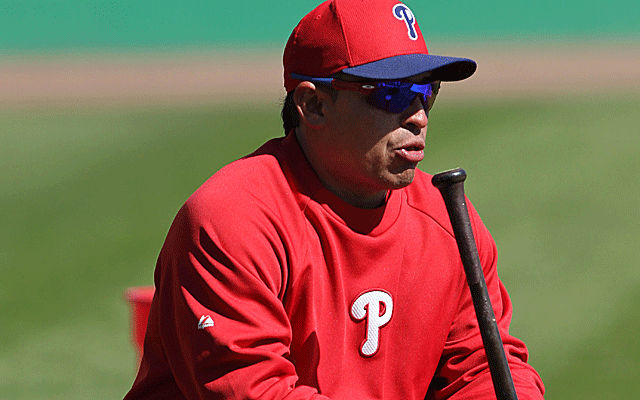 NEW YORK -- Getting Carlos Ruiz back should help the Phillies.
No one's debating that.
But having Chase Utley and Ryan Howard in the lineup every day was supposed to help the Phillies. Getting Roy Halladay straightened out was supposed to help the Phillies.
Yet entering the weekend, the Phillies had lost as many games as the Cubs. The Phillies (9-14) had the same record as the messed-up Blue Jays.
"I know this," manager Charlie Manuel said Friday. "We can play better than we have been."
They'd better, or the questions about Manuel's job security will intensify. They'd better, or the questions about whether this team needs a more serious rebuild will get sharper.
They'd better, but can they?
As Manuel likes to say, we'll find out. By Sunday, the excuses will have evaporated.
Barring a rainout Saturday (weather.com put the chances of rain at 0 percent), Ruiz's 25-game drug suspension will be up. He'll return to the Phillies lineup Sunday against the Mets.
"I think he's going to help us," Manuel said. "Everybody on our staff feels comfortable pitching to him, and the last two years he has come into his own as a hitter."
Ruiz is a valuable guy, more valuable than he tends to get credit for. The Phillies pitchers do trust him immensely, and the Phillies lineup needs him, too.
But one Phillies person complained Friday that just as the team last year seemed to spend the first half of the season waiting around for Utley and Howard, there were times this month that this year's team seemed to wait around for Ruiz's return.
This week, the Phillies saw something that has almost never happened before, when they lost back-to-back-to-back games started by Cole Hamels, Halladay and Cliff Lee. The three aces had pitched three consecutive games 16 other times; the only other time that the Phillies lost all three was after the Phils had already clinched the division title in September 2011.
"They'd all still be guys you would want starting in Game 1 or 2 of any playoff series," said one scout who watched the series.
That includes Halladay, no matter what you read earlier this year (here included) about how he could be done as a dominant starter. Halladay has looked very good in his last three starts, and people around the Phillies talk about how he is now throwing each pitch with a conviction that seemed to be lacking early in the season.
Rather than reaching for an extra 1-2 mph on the radar gun, Halladay seems to have adjusted to pitching with what he has, which is still plenty.
It also seems possible now that the spring training illness that forced Halladay out of one spring start may have also robbed him of some strength and preparation time entering the season.
In any case, Halladay no longer seems to be a big Phillies concern.
Neither is Utley, despite a few uncharacteristic mistakes this week. Neither is Howard, who drove the ball to center field for his third home run of the season Friday night against the Mets.
Soon enough, Ruiz will be back, too.

Maybe that's what the Phillies have been waiting for.

The only problem is that we seem to have said that before.