For 30 years, George Brett has been 'the pine tar guy'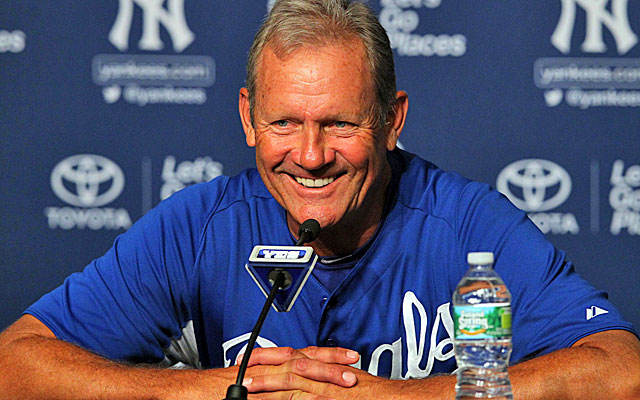 NEW YORK -- George Brett rattled off the laugh lines as if he had used them before.
Because he has.
For 30 years, he has been asked about the Pine Tar Game. For 30 years, he has been talking about it, often joking about it.
"That's what I'm known for," Brett said Tuesday at Yankee Stadium, in a press conference set up because the 30th anniversary of one of the best-remembered regular-season games in history comes up on July 24.
He's known for other things, of course. He won an MVP award and a World Series in 1980. He nearly hit .400 that year. He played 21 years for the Royals. He made it to the Hall of Fame.
And now he's making an impact as the Royals hitting coach ... where players who weren't even born in 1983 still ask him about the time he charged out of the dugout after umpire Tim McClelland called him out for having too much pine tar on his bat.
You've seen the video clip. Everyone has seen the video clip. Quite a few of those people remember that McClelland's ruling was overturned on a protest, and that the Royals wound up winning the game 25 days later.
Yeah, come to think of it, that is what George Brett is known for.
"It could be worse," Brett said. "I'm pretty good friends with Bill Buckner. We all know what he's remembered for."
Besides, Brett said Tuesday, before he heard every pine tar joke in the book, he had to listen to every hemorrhoid joke ever written. He was the guy who had hemorrhoids during the World Series.
"My best comeback was that all my troubles are behind me," he said. "But from October 1980 to July 24, 1983, that's all I heard. Now I'm the pine tar guy.
"So it's really the best thing that ever happened to me."
Brett said his famous reaction to being called out had a lot to do with the game being in New York, because the Royals and Yankees were rivals then and Goose Gossage (who gave up the pine tar home run) was the best closer in the game. He talked about how he and Gossage have become friends, and about he had huge respect for McClelland and Joe Brinkman, the umpire who grabbed him after his charge out of the dugout.
He explained why there was so much pine tar on that bat, saying that he never wore batting gloves and needed the pine tar for a good grip. He said that because he didn't break a lot of bats, the pine tar would build up.
"I remember, it was a really good bat, too," he said.
He remembers everything, because he is asked about it so often. Brett speaks to Royals minor leaguers every spring, and he said it's inevitable that one of them will ask the question.
It's coming up again now, because it has been 30 years.
For 30 years, he's been the pine tar guy.