Moving to ACC, Notre Dame may have buy out of current contracts to balance schedule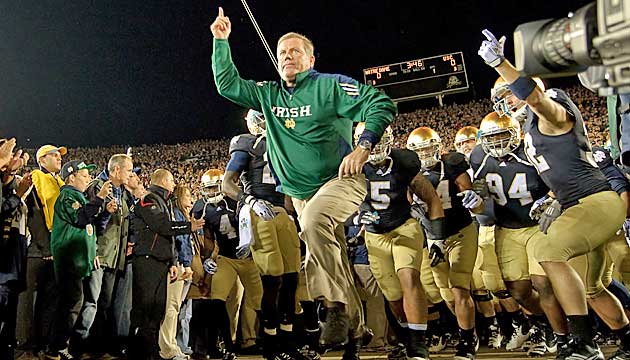 Notre Dame wants to preserve its traditional rivalries with USC and Stanford. (US Presswire)
Notre Dame's schedule is finalized only through 2013 and the school may have to buy out of existing contracts to balance its schedule, CBSSports.com has learned. The football program begins a scheduling agreement with the ACC in 2014.
The school would definitely like to preserve its traditional games with Southern California and Stanford because the school wants a presence on the West Coast. Notre Dame also wants an occasional presence in Texas. However, AD Jack Swarbrick said that Notre Dame may have to buy out of individual games within a current contract in order to balance the schedule when the school starts a scheduling agreement with the ACC in 2014.
"There will certainly be some reworking of understandings," Swarbrick said. "In this environment ... you didn't have to be a rocket scientist to know that when you did team contracts you needed to build in some flexibility."
Swarbrick added clauses were included in some contracts that allowed Notre Dame to get out of them on 12-month or 18-month's notice without an exorbitant penalty.
Depending on the ACC opponents, the question seems to be: Does Notre Dame want to play the likes of USC, Michigan, Michigan State, Purdue and Stanford each year? USC and Stanford will "likely" remain, Swarbrick said, along with Navy.
"You start with those and try to work your way through and find some balance," he said. "What we may have to do with some of the others, they may not be every year."
Other traditional rivals, he added, may have to be two years on, two years off the schedule.
Perhaps reacting to that possibility, Purdue AD Morgan Burke issued this statement: "You have two schools in the state of Indiana with shared values -- their close proximity is a mutual benefit when it comes to travel and potential missed class time by the student-athletes -- so it only makes sense that we will continue to compete against them."
Swarbrick must massage and balance that schedule going forward. For example, this year's schedule is considered one of the toughest in school history. It was made tougher for Notre Dame when USC's Matt Barkley and Oklahoma's Landry Jones returned to their schools instead of going to the NFL.
Swarbrick is keenly interested in playing at least one "off site" game per year. This year it was Navy in Ireland. Next year it's Arizona State in Dallas, which satisifies that desire to play in Texas. The 2014 schedule lacks only that off site game, but is still incomplete.
Swarbrick indicated that the partnership with the ACC may fast-track an off site game in Boston.
An informal agreement with the Big East complicates future schedulilng a bit. When the Big East began to be raided by the ACC around 2003, then-Big East commissioner Mike Tranghese asked Notre Dame to continue playing his schools. Back then, Pittsburgh and Syracuse, for example, were Big East schools. Syracuse still has a pending four-year contract with Notre Dame in the future.