Boycotting Sochi may not be best, but it must be considered ... right?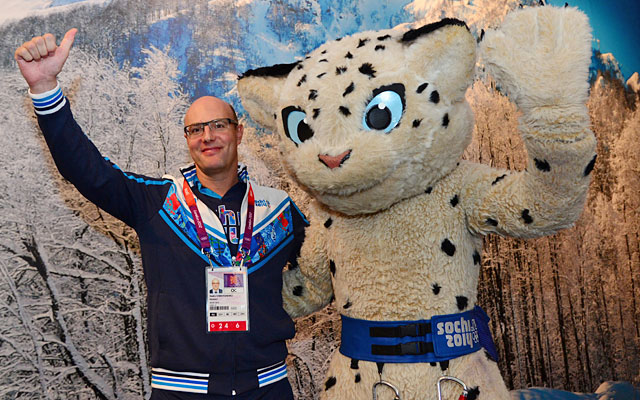 The United States doesn't have to boycott the 2014 Winter Olympics in Sochi, Russia. But we have to consider it, don't we? I mean, we have to at least think about it.
Don't we?
This story won't go over well with those of you who aren't on board with the gay rights movement. I understand that. And lots of people -- most people -- probably will object to our Olympians being used as pawns in a sociopolitical game of chess. And I understand that.
What I don't understand, not even a little bit, is Russia's announced intention to deport or jail anybody who "goes onto the street and starts propagandizing" on behalf of gay rights. In other words, no protests against Russia's hateful position that gays are essentially subhuman. No waving a rainbow flag. What about holding hands? Is that "propagandizing" on behalf of gay rights?
Can US figure skater Johnny Weir -- a 2014 medal hopeful -- give his husband a peck in public without being sent to prison?
This is awful, and there are no good solutions. A boycott of the Sochi Games in February would be terrible, a rotten blow to our athletes who have trained for years to compete. It would also threaten their livelihood going forward. For many of them, the 2014 Games is their chance to make an impression on the public, market themselves, set themselves up for whatever comes after retirement.
But Russia has pretty much announced that it's illegal to be openly gay.
What if Russia announced it was illegal to go onto the street and start propagandizing for the rights of black people? Or Jewish people? We would boycott the Sochi Games then, right?
Right?
Wrong, is what lots of you are saying right now. Being gay is nothing like being black or Jewish, because people are born black or Jewish; they're not born gay. That's what lots of you -- my guess: half -- are thinking right now.
To which I would say, ask a gay person. My guess is you don't know any gay people, not well enough to have had that kind of conversation, because if you asked a gay person the following question, they would laugh until they realized you were serious:
When did you decide to be gay?
Hahahaha. Decide to be gay? When did you decide to be straight? Oh, right. You didn't decide to be straight. You are straight. You were born straight. There was no choice to be made for you.
There was no choice to be made for gay people. Again, find one. Ask him or her. The odds are 100 percent -- not 50 percent, not 70 percent, not 99 percent -- that the answer will be: I didn't choose this. I am this.
"This" is subhuman, Russia says.
So as a country, we have to say something. We have to do something. That's apparent. We can't just pretend this hasn't happened, that Russia hasn't just decided that 5 or 10 percent of the world's human population is less than human.
The question is, what do we say? What do we do? And the answer isn't necessarily a boycott, though that has to be on the table. Already, people are lining up on both sides of that argument. Johnny Weir himself has said he's against a boycott, which people opposed to gay rights will use as a hammer. People opposed to changing the name of the Washington R-dskins use the handful of Native Americans who aren't offended by the team's nickname in the same way: "See? The word doesn't even bother them!"
Intellectually lazy people do the damndest things.
Back to Weir and his position that the United States shouldn't boycott Sochi: Of course he feels that way. He's an Olympian. He wants to go, he deserves to go, and he's right on both counts. And he probably he will go, because probably the entire American team will go. Two weeks ago the United States Olympic Committee issued a statement that read, in part:
"If there are any lessons to be learned from the American boycott of 1980, it is that Olympic boycotts do not work. Our boycott of the 1980 Olympic Games did not contribute to a successful resolution of the underlying conflict [between the Soviet Union and Afghanistan]. It did, however, deprive hundreds of American athletes ... of the opportunity of a lifetime."
That statement was made in response to the call in some quarters for a Sochi boycott because of Russia's harboring of Edward Snowden, the former US spy agency contractor who leaked classified information. That statement by the USOC, as thoughtful and powerful as it is, was made before the Russian Parliament passed a law by a 436-0 tally banning "propaganda of nontraditional sexual relations."
It was made before Russian politician Vitaly Milonov said last week that the law will not be selectively enforced to allow visiting gay Olympians -- and visiting gay fans -- the freedom to be who they are in public. And it was made before Russian Sports Minister Vitaly Mutko said last week in a television interview, "No one is forbidding an athlete with nontraditional sexual orientation from coming to Sochi -- but if he goes onto the street and starts propagandizing it, then of course he will be held accountable."
Then of course he will be held accountable.
Options include a fine. Deportation. Prison.
Imagine Johnny Weir, thrown in a Russian prison. For being who he is -- and refusing to hide it.
Russia has lifted its leg and marked its territory, but I know how this ends: It ends with our athletes going to Sochi, tiptoeing around the smell and fulfilling their lifelong dreams. That's probably how it should end, too. US Olympians aren't pawns to be used in a game nobody's going to win.
But let's talk about this some more. Let's make sure that sending our team, our citizens, to a country so profoundly and proudly homophobic is the right thing to do. But if we do send our team, I hope our gay athletes do to bigoted Russian President Vladimir Putin what Jesse Owens did to bigoted German dictator Adolf Hitler at the 1936 Olympics in Berlin.
Climb the medal stand. Proudly. And repeatedly.