Three Dolphins blurred their White House statement by grandstanding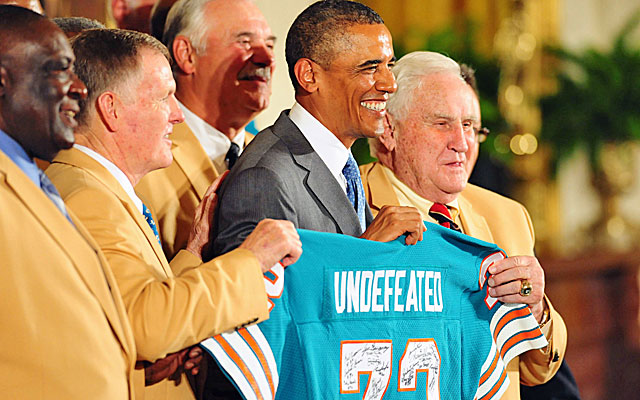 Three members of the 1972 Miami Dolphins turned down President Obama's invitation to the White House on Tuesday, and that's their right. Free country, freedom of speech and thought and all that.
Here's where it rubs me the wrong way:
Those three Dolphins -- Hall of Fame center Jim Langer, Bob Kuechenberg and Manny Fernandez -- didn't just turn down the invitation. They turned it down ... and talked about it.
(Yes, they have the right to talk about it. And I have the right to be bugged by it. Freedom!)
But they didn't just talk about it. They turned their decision into a political statement, bringing partisan politics into a moment that was done for non-partisan, non-political reasons. Obama wanted to congratulate the 1972 Dolphins on the 40th anniversary of their Super Bowl win. Why did he want to do that? I don't know. Presidents do this sort of thing a lot. Seems like they ought to have better things to do -- this president in particular -- but oh well.
What also happens a lot is this: Invited guests turn down the invitation. A Republican president like George Bush, a Democrat like Obama, whoever. Doesn't matter. Turning down the invitation happens, and it's anyone's right to do so.
Grandstanding? Playing to the crowd on their side of the aisle, whatever that side is, by announcing why they've turned down the invitation?
Cheap move. A little embarrassing. Langer didn't just decline to go. He declined to go, and told the South Florida Sun-Sentinel: "We've got some real moral compass issues in Washington."
Kuechenberg told the paper: "I just don't believe in this administration at all. So I don't belong."
Hey, fine. Half the country doesn't believe in this administration. More than half, probably. But I'd compare what happened Tuesday to what happens when someone makes a charitable donation, and then tells the media about that donation; it cheapens the gesture.
Same with this. Three 1972 Dolphins made a statement ... and then cheapened it by making a statement.