Jerry Jones shouldn't get away with his accusations that Giants cheated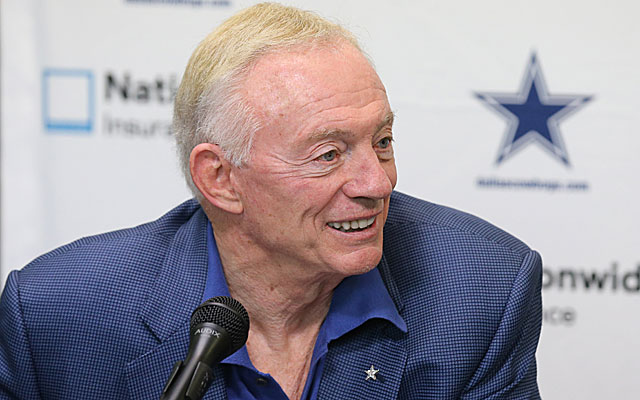 Cowboys owner Jerry Jones said the New York Giants were cheating on Sunday. The NFL looked into it and decided there was "no basis" for such an allegation. Apparently that's where this story ends.
When really, that's where this story ought to begin.
Look at that first sentence again. Let me type it another way:
The owner of the Dallas Cowboys accused the New York Giants of cheating.
And that's where this story ends? With the NFL shaking its head and saying: "Nothing to see here"?
It's too late for that. We can't un-see what we've seen. We can't un-hear what we've heard. Or something. Point being, Jerry Jones accused another NFL team of cheating, and there wasn't enough to his accusations for the NFL to act on them ... which means something must be done.
To Jerry Jones.
Before we go farther, let's discuss the First Amendment. Let's discuss "freedom of speech." On the message boards below, there will be lots of people who get this wrong -- don't be one of them. The First Amendment absolutely guarantees freedom of speech, but what that generally means is this: It means a person can write or publish criticism of the government without fear of reprisal. More to the point, it means a person can accuse the New York Giants of cheating, even if they weren't cheating, without being dragged off to prison.
But it doesn't mean anyone can say anything without fear of consequences. For example, I cannot go on the radio and say, "The head coach of [a specific major college football team] has been paying players for years" and then hide behind the First Amendment without fear of consequences. While my speech would be legally protected up to a point, I could be sued or fired or both if I'm wrong. See, "freedom of speech" has a limit, and that limit is called slander. Or libel.
And Jerry Jones just slandered the New York Giants.
Maybe he didn't slander them legally -- although if I'm Giants linebacker Dan Connor, maybe I'd want to explore the matter further. See, Jones accused the Giants of faking injuries to slow down the Cowboys' fast-paced offense, and there were two New York players who went down with injury in the second quarter of the Cowboys' 36-31 victory Sunday. One of them was Dan Connor, the Giants starting middle linebacker. And his neck was injured so badly that he never went back into the game.
Clearly Dan Connor wasn't faking a damn thing, but Jones made it clear that, well, yes he was. Legally, in theory, that could be a problem if Connor were to pursue it, though my point here is not that Jerry Jones should face a civil lawsuit from the New York Giants' starting middle linebacker. (But wouldn't that be fascinating?)
My point is, Jerry Jones should face disciplinary action from the NFL for attacking the integrity of Dan Connor and the other Giants player who left the game with an injury, defensive tackle Cullen Jenkins. I mean, the NFL is on record as saying there's "no basis" to believe the Giants were breaking the rules Sunday to slow down the Cowboys. Put another way, the NFL has said there's "no basis" for Jerry Jones' accusation.
And Jones is just going to get away with it? The owner of the Cowboys, accusing two players with the New York Giants of unethical conduct? Of cheating?
With no consequences?
This is where the power structure of the NFL is screwed up. The league has a commissioner, but Roger Goodell works for the owners. He doesn't work with them, but for them. Goodell has neither the guts nor the inclination to come down hard on Jerry Jones for accusing a division rival of cheating, which means the Giants will just have to take it.
So maybe this leads me back to an earlier point, that theoretical idea that Dan Connor could explore a legal remedy to being called an unethical cheater by the owner of the Dallas Cowboys. If the NFL won't neutrally and publicly defend his honor, perhaps Connor should find someone who will. And the only other structure that comes to mind is the U.S. legal structure.
Thing is, football players do fake injuries. We've all seen a defender lying on the ground in apparent pain when the opposing offense is rolling. We've all seen that guy make his way to the sidelines. We've all seen him come back into the game. And we've all wondered.
And even if we've never seen any of that, we heard former Bears linebacker Brian Urlacher accuse his own team of faking injuries. The Bears had "a designated dive guy," Urlacher said. A member of the staff made the hand signal from the sideline. It was a diving motion.
Faking happens. You know it. I know it. Jerry Jones knows it; perhaps his own team has done it once or twice over the years. That doesn't make it OK to throw out accusations like the one he threw out Sunday. Truth is a defense, and had the NFL found that Jones' accusations were truthful, well, there would be hell to pay for the New York Giants.
But the NFL has found "no basis" for Jones' accusations.
So shouldn't there be hell to pay for Jerry Jones?