Don't punish Alabama for alleged actions of ex-player, middleman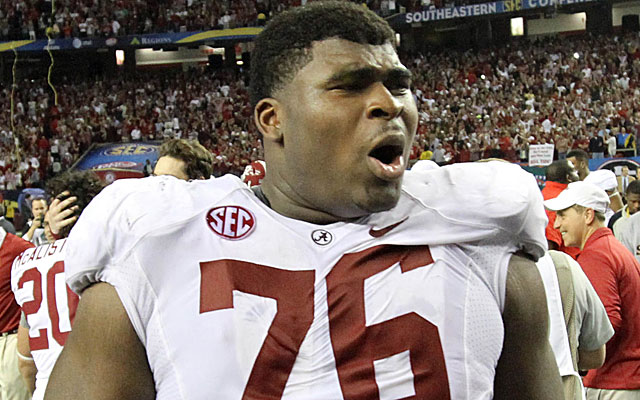 If Alabama knew star offensive tackle D.J. Fluker was on the take, then the NCAA should throw the book at the Crimson Tide. Reduce their scholarships. Put them on probation. Take away, yes, the 2011 and '12 national championships.
But only if Alabama knew -- or should have known -- that Fluker had jeopardized his eligibility by accepting money from a middleman.
Otherwise, what are we talking about here? We're talking about a handful of alleged cheaters in this story, none of them named "Alabama."
Fluker broke NCAA rules by taking money from a leech trying to get his hooks into a future NFL draft pick, if the allegations in this story are true. And if true, the leech in question -- former Crimson Tide defensive end Luther Davis -- broke Alabama state law by giving money to a college athlete. So did any agent or financial adviser Davis was representing.
That's a lot of alleged cheaters and rules-breakers and criminals.
Know who didn't cheat or break any rules or laws?
Alabama.
This is where some people will roll their eyes at me, and where people from Miami and Southern California might even be yelling at me, so this is where I make the following confession: My opinion on this form of "cheating" has evolved over the years. Used to be, when a school got caught doing something like this, I went all Old Testament on the school. Miami and Nevin Shapiro? Punish Miami. USC and Mike Ornstein? Punish USC.
Something that didn't occur to me until recent years -- prompted, I guess, by another evolving opinion: that college football players should be paid -- was hidden in a previous sentence. Let me write it for you again. Let's see if you catch it:
Used to be, when a school got caught doing something like this ...
See the problem there? In the case of D.J. Fluker, the school didn't do anything. Fluker allegedly did something, but he's gone to the NFL. Middleman Luther Davis allegedly did something, but he doesn't work for Alabama. The agent, the financial rep? Same story. So if the NCAA is going to hammer somebody in this scandal, it will be the one party that wanted no part of it:
Alabama.
Alabama didn't need Luther Davis to get D.J. Fluker on campus in 2011, because he was already there. It's possible Davis' financial assistance helped keep Fluker on campus after his redshirt sophomore season, when he could have turned pro, but we don't know that. We do know Fluker's draft stock was a mole hill in 2011 compared to the mountain it became after his All-America breakthrough in 2012. Bottom line, the one entity in this entire scandal that didn't need Luther Davis to even exist was Alabama.
But that's who will take a beating from the NCAA? Alabama?
That's stupid, and this is where I circle back to USC and Miami. This is where I examine whether the same adjective -- stupid -- applies to NCAA sanctions for USC with marketing maven Mike Ornstein, and to Miami with rogue booster Nevin Shapiro. And to do that, let's circle all the way back to the first few sentences of this story, where I absolve Alabama (and any school put in a similar position) as long as they didn't know about the violations ... and shouldn't have known.
Let's start by giving Miami and USC the benefit of the doubt and assume they didn't know what Shapiro, Ornstein and their cronies were doing. Miami and USC didn't know -- fair enough. But should they have? Shapiro is on record saying he made it rain for years on Miami athletes, and he was given VIP treatment by the Miami administration. At USC, Reggie Bush was eventually connected to people that bought him a car and put up his parents in a $750,000 house.
Should Miami have known? Should USC? Bush's car was nice but not absurdly so. The $750,000 home his parents lived in while he was at school was beyond their means, but it was 130 miles from campus. Should USC have known about that? Should Miami have known about the nickels and dimes Shapiro was throwing at UM athletes? Lord, don't ask me.
All I know is this: Unless D.J. Fluker was throwing around cash like a big shot, how would Alabama know that some leech had sunk its hooks into him? And if Alabama didn't know, how can the NCAA crush them for it?
There's probably some naivete on my part here. There have been and will be big-time NCAA football programs that want people like Luther Davis, Nevin Shapiro and Mike Ornstein in their midst. There are college coaches, whether it's an established head coach or an ambitious young assistant on the rise, who unearth leeches to do the dirty work. And there are NCAA coaches whose agents also represent NFL players, which could lead to all sorts of unethical conduct by an agent. I'm aware of that.
Also I'm aware that allowing schools to hide behind plausible deniability would encourage renegade boosters to start paying players, even recruits, without fear of hurting the program -- since the program didn't know. The booster takes the risk, and if he gets caught the booster takes the fall. But dear old State U goes on about its business, blissfully unaware and therefore untouched by the NCAA.
Years ago I would have laughed at someone for writing the exact thing I'm writing now, but dammit times have changed. Minds are changing, including mine, about the money flowing throughout college football, almost all of it out of (legal) reach of the players. But they know about that money, and they know the rules are stupid and unfair. So along comes an alleged leech like Luther Davis, and there's D.J. Fluker who spent time living in a car after Hurricane Katrina destroyed his family's home in New Orleans. Fluker's mom has nothing to give him for spending money. Luther Davis offers a few bucks.
D.J. Fluker accepts. Allegedly.
A few years later the NCAA wades in and tries to make sense of a senseless situation. All it can do is hammer Alabama for the violations of D.J. Fluker and the crimes of Luther Davis. Does that seem fair to you? It doesn't seem fair to me.
The system is broken, so I'm not asking the NCAA to come up with some magical solution. I'm just asking the NCAA to not make it worse.