Blackout rules keep taxpayers from seeing games in stadiums they fund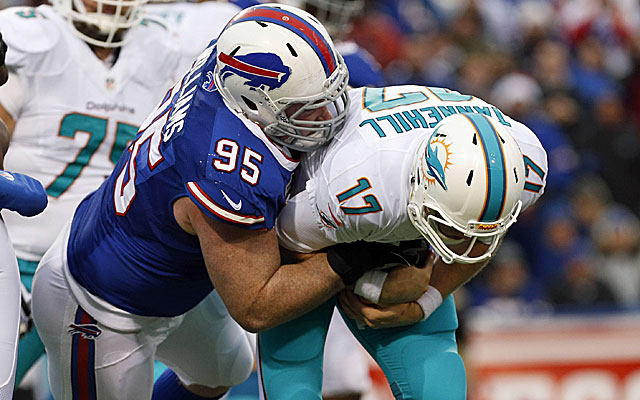 A year to the day after taking $226 million in taxes from the people who support the Buffalo Bills -- and even from people who don't -- the NFL screwed most Bills fans Sunday out of the team's first shutout at Ralph Wilson Stadium in seven years. How did the NFL do that? By blacking out the game.
Close to 15 million people in Florida were able to watch Buffalo's 19-0 victory against the Dolphins on CBS. The game also was televised in parts of Georgia and Alabama for some reason, and in Baltimore for no reason at all.
But it wasn't shown anywhere within 75 miles of Ralph Wilson Stadium, because the NFL is a ruthlessly greedy outfit that takes public money to improve or build stadiums while not letting the people who paid those costs watch the game on television. Not if tickets to the game remain unsold.
That's what happened Sunday to Bills fans, who missed their team's 19-0 victory because the NFL clings to a bad idea from another era, an idea that was ruthless -- if understandable -- when the Federal Communications Commission passed the sports blackout rule in 1975. Back then NFL franchises made the bulk of their money from ticket sales, and needed to guarantee a crowded house to turn a profit.
Those days are gone, and even the FCC says so. On Wednesday the FCC took a step toward repealing its blackout rule when the five-member commission voted -- and voted unanimously, I may add -- to repeal the rule. A few more steps remain, with a final ruling expected at some point in the first half of 2014.
On Wednesday, the FCC noted that changing times -- and revenue streams -- render blackouts mostly pointless.
"The sports blackout rules were originally adopted nearly 40 years ago when game ticket sales were the main source of revenue for sports leagues," the FCC wrote. "Changes in the sports industry in the last four decades have called into question whether the sports blackout rules remain necessary."
The NFL begs to differ, of course, saying the league will "strongly oppose any change in the rule ... the blackout rule is very important in supporting NFL stadiums and the ability of NFL clubs to sell tickets and keeping our games attractive as television programming with large crowds."
The circular ruthlessness of the NFL's logic is astounding. NFL teams make the bulk of their revenue from television contracts, which are funded in part by cable bills paid by you and me, but if a game doesn't sell out on any given Sunday, the league will remove it from TV in the home team's market. Where they were once a tool to help owners pay their bills, blackouts now are punitive. And that's all they are.
That this blackout happened in Buffalo on Dec. 22, 2013 is galling, given that on Dec. 22, 2012 the news broke that the Bills were charging taxpayers $226 million to sign a 10-year extension to its lease at Ralph Wilson Stadium. Erie County taxpayers were hit up for $103 million, while the rest of the state -- even areas that don't consider the Bills the local team -- was docked $123 million. And just to be clear: Those taxes weren't approved by local or state residents. They were diverted from general tax funds. No vote, no referendum, no public debate. That money is just ... gone.
To recap: If you live in an NFL city, the NFL will tap into your tax money -- diverting those funds from schools, roads, hospitals, whatever -- to keep the team in your town for eight games a year. But it will take those games off your TV if the town doesn't buy every ticket. And there's nothing you can do about it.
It's a scam, is all it is, but we take it because we love the NFL and really, what else are we going to do? Not go to games as a protest? Of course not. We're weak, hooked, and the NFL knows it. So the cycle continues.
In the last two years alone, taxpayers supporting five NFL teams -- the Bills, Redskins, Vikings, Bengals and 49ers -- have been hit up for more than half a billion dollars to make sure those teams don't start looking to leave. But it's worse than that. Harvard professor Judith Grant Long has estimated that taxpayers have covered 70 percent of the capital cost of the league's stadiums. Long figures 12 teams (the Bills, Bengals, Browns, Texans, Colts, Jaguars, Chiefs, Saints, Chargers, Rams, Buccaneers and Titans) have received more in stadium subsidies than they needed, meaning those 12 NFL teams turned a profit simply on tax money.
Those teams still charged you a fortune for tickets and parking and hot dogs and official jerseys, though. And two of those teams -- the Bills on Sunday, and the Chargers on Dec. 1 -- took their game off local TV because fans didn't buy up every ticket.
The good news? The FCC is about to do away with its blackout rule.
The bad news? The ruthlessly greedy NFL won't care. Even if the FCC repeals its 1975 law, the NFL can negotiate blackouts into its next television contract. The NFL, in essence, will be able to tell CBS or NBC or whomever, "Give us the right to black out games, or we'll go to another network."
I suspect the networks will cave, even mine. And then fans will cave and continue to support the local team. Even you.
Even there in Buffalo, where one of the Bills' most dominating performances in years was enjoyed Sunday by exactly 54,305 people within 75 miles of Ralph Wilson Stadium -- a 40-year-old dump about to receive $226 million of the public's money.