Like others before him, Manning finds security, success from a glove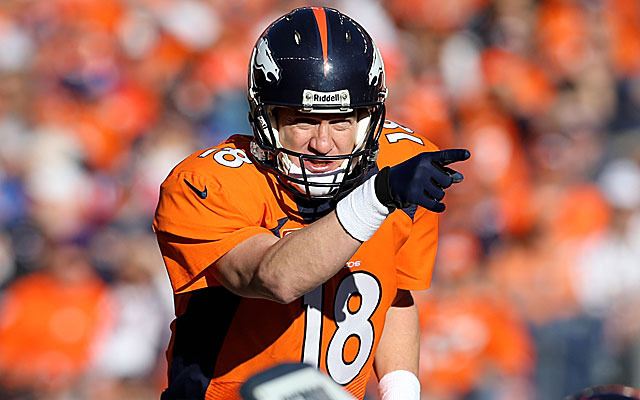 NEW YORK -- As it affects Peyton Manning, the temperature for Super Bowl XLVIII is not a "narrative," as the cool kids dismissively say. The temperature is a fact. The temperature is news.
OK, so the temperature is old news. Because after 13 seasons in Indianapolis, seasons where Manning put up one set of results in temperatures above freezing (69.3 winning percentage) -- and one set of lesser results in temperatures below 32 degrees (36.4 winning percentage) -- Manning has found a way to beat the cold. It's the glove, stupid. And if you're still thinking the cold for Super Bowl Sunday will affect Peyton Manning, then guess what?
You're stupid.
So was I. On Jan. 19 I was stupid. And even on Dec. 1, when I watched Peyton Manning dissect the Chiefs on a comfortable day in Kansas City, I was stupid. Or maybe ignorant is a better word, because ignorance implies a lack of knowledge -- and I didn't know about the glove. Had no knowledge of it. I mean, I knew Peyton Manning wore the damn thing on his passing hand, but I didn't know what it meant, as I do now.
And what does it mean? It means Manning is just about as good in cold weather as he is in warm weather. In fact, he likes the glove so much that he wears it now in almost any weather, just because he can, like a relief pitcher who comes into the game with the bases empty and works from the stretch anyway. Because he likes it.
That's Manning with a glove on his right hand. He likes it. Likes it so much that he wore it against New England last week in the AFC title game, when temperatures were in the low 60s and Manning wore the glove anyway because it helps him grip the ball in the aftermath of neck surgeries that cost him the 2011 season and ended his time with the Colts and led to him seeking out a solution for the nerve damage that was affecting his grip. Hence, the glove. And against the Patriots on a balmy Denver day in the AFC title game, Manning used that glove to throw for 400 yards, two touchdowns and no interceptions. He was 32 of 43. He had a passer rating of 118.4.
And that was normal. For Manning, anyway. With a glove. According to Jeff Legwold of ESPN.com, Manning has worn the glove in 10 games this season and thrown for at least 400 yards four times. He has thrown for 33 touchdowns and just five interceptions in those 10 games. His passer rating is 111.9. His winning percentage? It's 80.0. Eight wins, two losses.
The wind is another matter, and if it's windy on Sunday then all bets are off. Peyton Manning has the glove but he doesn't have the cannon, not anymore, and if it's windy all game, or if a gust comes up at the wrong time, well the glove can't help him there. But if it's not windy? If it's merely cold, as it is expected to be with temperatures in the upper 20s?
Peyton Manning isn't in trouble.
Seattle is.
Which means my story on Peyton and the weather, today, isn't going to be about Peyton and the weather. It's going to be about the glove. His glove? Nah. You just read about his glove.
Read about some others, please.
--------------------------------------------
The most ridiculous glove in sports history was worn by boxer Art Jimmerson on Nov. 12, 1993. It was the inaugural UFC fight card -- on Saturday night the MMA promotion will hold UFC 169, but in November 1993 it debuted with UFC 1 -- and fighters from various disciplines came to Denver in search of easy money.
Karate specialist Gerard Gordeau assumed his form of fighting was the best. Ditto for kickboxer Kevin Rosier, and Brazilian jiu-jitsu specialist Royce Gracie.
And boxer Art Jimmerson.
Jimmerson, a national Golden Gloves champion as an amateur and a cruiserweight with a professional boxing record of 29-5, thought he'd blast some fools with punches and collect a paycheck and go home. He drew the BJJ black belt, Royce Gracie, in the first fight and was told in the dressing room beforehand that this was not going to be his night. That Gracie was going to grab him, and that the referee wouldn't break up the clinch -- because this wasn't boxing. This was MMA. And after Gracie grabbed him, he was going to drag him to the ground, wrap his arms and legs around Jimmerson's torso to immobilize him, and then Royce Gracie was going to break his arm.
Jimmerson was terrified to learn this. With a career to protect -- a career in boxing -- he decided to wear just one red boxing glove, on his left hand, so his right hand would be free to signal to the referee that he was tapping in the event Gracie started to break his arm.
Today he is remembered in MMA circles as Art "One Glove" Jimmerson. That night he was helpless, frozen, standing with Gracie for a few seconds until he was grabbed, then dragged to the ground, then pummeled. Jimmerson quickly tapped out with his free hand, and avoided major damage. His one red boxing glove? Useless.
He never threw a punch.
Whatever became of Art Jimmerson? He went back to boxing, where his 29-5 record earned him better competition. And Art Jimmerson, bless him, became a tomato can. He lost 13 of his last 17 fights -- including his last eight, all by knockout, none getting past the third round.
--------------------------------------------
Personally? The glove I've always remembered more than any other belonged to a Louisville basketball player in 1982. No, two Louisville basketball players in 1982. One of them was Milt Wagner, the other was Wiley Brown, and in a bizarre turn of events -- the kind you remember 32 years later -- both played the 1982 Final Four with a glove on their hand.
Wagner, a freshman guard, actually wore two gloves. He had contracted a mild case of Stevens-Johnson Syndrome, a rare skin disease that has much more violent versions -- and has unleashed those versions, oddly, on basketball players. Stevens-Johnson is the syndrome that killed former NBA center Manute Bol in June 2010 after he contracted it on a return to his native Sudan. Memphis State center John Gunn, who averaged nearly 10 points and nine rebounds in his first two seasons in school, came down with Stevens-Johnson early in his junior season and died Dec. 21, 1976.
Milt Wagner had a more treatable version, the skin disease affecting his hands and feet, so he wrapped his feet in gauze and played in the 1982 Final Four in a pair of gloves. Brown, a senior forward, played in that same Final Four -- and for much of his career -- in a surgical glove on his right hand that held in place his prosthetic thumb.
Today Milt Wagner is an assistant coach to Tony Barbee at Auburn. Wiley Brown, one of the first college basketball players to dabble in the NFL -- he briefly played defensive end for the Eagles -- is the head basketball coach of NAIA Indiana Southeast in New Albany, Ind.
--------------------------------------------
Believe it or not, baseball players didn't come out of the womb wearing a batting glove. Sorry, two batting gloves. And sweatbands. And armor. Before he became an irritant on the Chicago White Sox television team, Ken Harrelson was believed to be the first player to wear a batting glove -- though it wasn't a batting glove. It was a golf glove. Batting gloves didn't exist in 1964, so Harrelson made do with a golf glove and soon was copied by a handful of others, including Mike Hargrove, the fidgeting, rearranging, time-killing Rangers first baseman known as "the human rain delay."
A man named Irving Franklin visited the Phillies' spring training site in 1983 and convinced third baseman Mike Schmidt to help him design a batting glove for baseball players. Pretty soon most MLB players were wearing a batting glove on their bottom hand, then both hands, and Franklin became one of the leading names in baseball equipment.
Nearly a half-century before one eventual Hall of Famer (Schmidt) helped introduce the baseball batting glove, another eventual Hall of Famer introduced the first baseman's mitt. When Hank Greenberg first showed up with the thing in 1939, baseball tried to outlaw it. It was too big, too bizarre. But it stuck, and today of course first basemen at all levels wear one. I still own my first baseman's mitt from 1981.
It was made by Franklin.
--------------------------------------------
Goalies in soccer didn't always wear the enormous, sticky gloves worn today. German keeper Sepp Maier was the first to do it, in the 1960s, and in 1974 he led the German side to the World Cup title in Munich.
Maier also made famous, and acceptable, those overly long shorts favored by keepers and, eventually, by the Fab Five. Stick it, Chris Webber. Sepp Maier beat you to it.
--------------------------------------------
So there are glove pioneers all over. Hank Greenberg and Ken Harrelson. Sepp Maier.
Peyton Manning?
Nah. He's no pioneer.
Jim McMahon was wearing a glove on his throwing hand in the 1980s, but it didn't catch on. It was Jim McMahon. The guy was a flake. Gloves also were worn in the Canadian Football League, but that was Canada and this is America and we don't do what they do. They do what we do. Or something.
Anyway, after throwing for more than 40,000 yards in the CFL, Doug Flutie brought his glove to the NFL in the late 1990s and it started to gain some traction. When it was cold enough, Ben Roethlisberger wore a glove at Miami (Ohio) and later for the Steelers. MVP Kurt Warner wore a glove later in his career. At Louisville, Teddy Bridgewater regularly wore gloves these past few seasons, even in good weather.
In December 2012, Peyton Manning started fooling around with a glove in Denver. He had tried it several times at Indianapolis, but never found a glove he liked. Broncos equipment manager Chris Valenti and assistant Mike Harrington kept coming to him with various forms, and one of them worked.
"Found a pair I liked," Manning says about it, and it's about all he'll say about it. He won't divulge the brand name, and while Internet speculation says he is wearing gloves made by the company Cutters, pictures don't show it and Manning won't confirm it.
All we know is the glove works. He wore it twice late in the 2012 season, against Cleveland and Kansas City, and threw for 643 yards, six touchdowns and one interception. He had a passer rating of 122.6. The Broncos scored 38 and 34 points and won both games.
And a new narrative was ready to be written. Just took some of us a while to write it.