Flacco lands $52M guaranteed ($29M bonus) in record $120.6M deal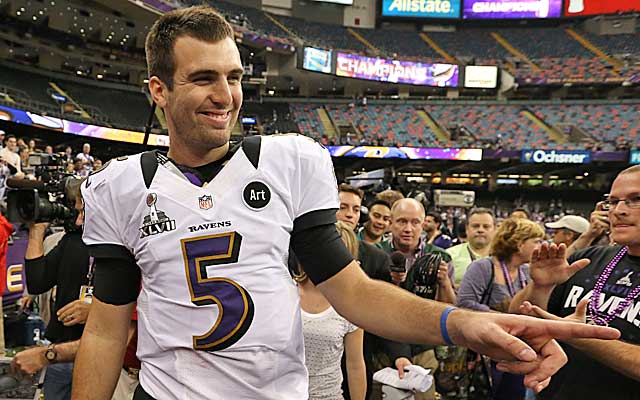 Super Bowl-winning quarterback Joe Flacco will receive $52 million guaranteed as part of his six-year, $120.6 million deal, according to a league source. The Ravens have announced a news conference for 1:30 p.m. ET Monday to announce the record-setting deal.
Flacco's guarantee includes a $29 million signing bonus and he will average $20.1 million per year, a slightly higher average than Saints QB Drew Brees' previous record.

The Super Bowl XLVII MVP also will make $62 million in the first three years of the deal -- $1 million more than Brees. Flacco will earn $51 million in the first two seasons.

Flacco, who would have counted at least $15 million against the cap on a low franchise tag, will count just $7 million against the 2013 cap, a huge savings for the cap-strapped Ravens.

Flacco won't be taking home the $40 million that Brees did in his first season of his new deal. But the reality is for big deals like this, the player is going to play out at least those first three years, and Flacco tops Brees in that parameter.