Brewers offered Greinke $100M-plus but signs suggest he'll become a free agent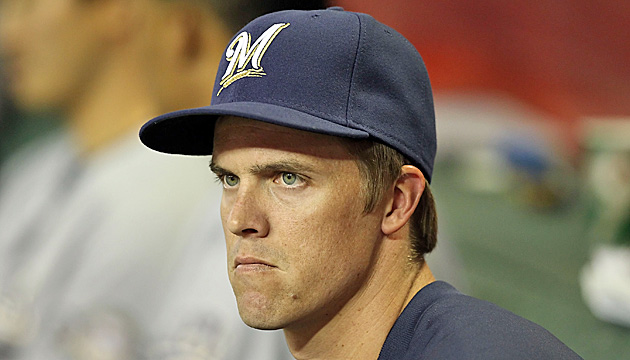 Greinke will most likely wind up a free agent. (Getty Images)
The Brewers offered star righthanded pitcher Zack Greinke a $100-million-plus, five-year deal sometime within the past few weeks, but there's nothing yet to indicate he will sign quickly and give up free agency, people familiar with the talks told CBSSports.com.
The quiet Greinke offer, which is said to have come more than a week ago, was said by one person to have been for close to the $112.5-million, five-year extension Matt Cain signed and may have even replicated it (though Cain's total could be looked at as $127.5 million since he had a year to go at $15 million when he signed the extension this spring). Greinke is expected to hit the free-agent market, which would give him a chance to look around.
Star players rarely sign deals with their current teams with only a few months to go before free agency. Brewers GM Doug Melvin has acknowledged the difficulties of overcoming the free-agent plans of big-time players.
Greinke, 9-3 with a 3.57 ERA (the ERA was 2.82 before his three straight starts) is also a player who puts winning above all else, and came to Milwaukee after turning down a chance to sign with the Nationals for $100 million two years ago, a decision that looked very prescient when the Brewers made the playoffs last year.
The Braves, White Sox, Angels, Rangers, Orioles and others are expected to be interested in Greinke as a trade target. He has had to skip a start after feeling less than his best following three straight starts for the Brewers, which could conceivably complicate his trade market, as teams will want to see him pitch. He is scheduled to start Tuesday in Philadelphia.