Cubs back talking to Dodgers about Dempster; Braves deal on hold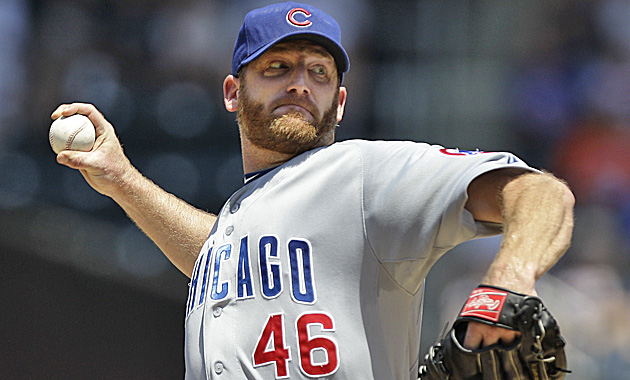 Dempster will reportedly approve a trade to the Dodgers. (AP)
The Cubs have re-engaged the Dodgers in trade talk involving star righthanded pitcher Ryan Dempster, since Dempster has not yet accepted a deal to the Braves, sources tell CBSSports.com.
The Cubs and Braves had agreed on a trade to send Dempster to Atlanta for pitching prospect Randall Delgado, but Dempster has 10-and-5 veto rights, leaving the Cubs with little choice but to consider the original option -- the Los Angeles Dodgers.
Meanwhile, the Braves are also pursuing other starting pitching options while they await word from Dempster. Other comparable pitchers who may be traded this month include Zack Greinke, who the Braves love and is pitching tonight, plus Matt Garza, Josh Johnson and James Shields. Greinke definitely intrigues the Braves.
Sources say Dempster has told people he would approve a trade to the Dodgers. It was originally thought Dempster would OK the Braves as well, as they were believed to be his "second'' choice. However, with him not giving his approval more than a day after the trade was consummated, the Cubs may be forced to try to forge a trade with the Dodgers. The Dodgers also have interest in a second Cubs pitcher, Garza.
At some point, the Cubs asked the Dodgers about their top pitching prospect Zach Lee, Danny Knobler reports. That seems like an attempt to get a prospect similar to the value of Delgado, understandable in that they thought they were getting Delgado. However, the Dodgers have shown no willingness to include Lee. There is a dropoff to the Dodgers' next best pitching prospect, but they have several decent young pitchers.
After the Cubs and Braves agreed on the swap yesterday of Dempster for Delgado, with the assumption Dempster would OK his "second'' choice, it was reported in multiple media outlets that a deal was going to go down to send Dempster to Atlanta. However, Dempster tweeted "there is no deal'' soon after, raising doubts about whether there actually was a second choice to the Dodgers.
The Cubs liked the Braves deal and were believed not overly enamored with the Dodgers original offer. Los Angeles does have some very good pitching prospects, but apparently they weren't showing a willingness to surrender the best of them for a rental. The Dodgers would appear to be in decent bargaining position now, especially if Dempster has no "second'' choice. The Nationals and Cardinals also talked to the Cubs about Dempster, but now it's obvious why the Dodgers were considered the "favorite'' from the start.
By Monday night, this blog quoted an executive who estimated the Braves deal as having a "50-50'' chance of going through.
Dempster told the Chicago media he was still thinking about the Braves option, but Cubs people also realize it might be easier just to make their best deal with the Dodgers.
Dempster is believed to like the Dodgers for a variety of reasons, including the presence of former teammate Ted Lilly.