Swisher wants to be a Dodger, but it's not likely to happen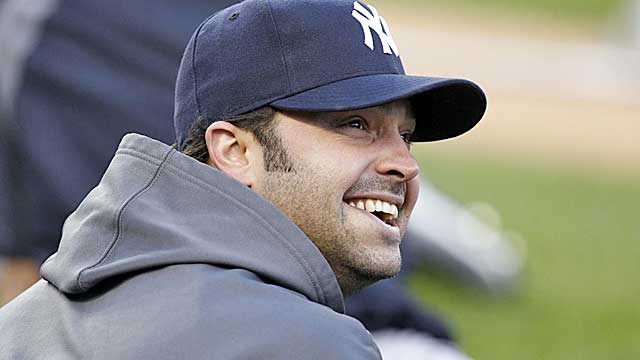 Unless Swisher can force the Dodgers to deal Andre Ethier, he's going to have to pick other teams. (US Presswire)
Nick Swisher may be dreamin' of L.A. but it's not happening.

Swisher might have to readjust his sights and think about Cleveland. The Dodgers aren't trading Andre Ethier to make room for him.

Of course Swisher wants to go to the Dodgers. No surprise there.

Swisher's wife is an actress, his new agent is a Hollywood type with a Beverly Hills address and Swisher himself lives in LA, which is no surprise, either.

But unless Swisher can himself arrange a trade to move Andre Ethier out of right field and make room for him, he's going to have to pick from the other teams. Until then, this rumor should be filed under Nick's Wishful Thinking.

A New York Daily News report suggested the Dodgers were "quietly shopping'" Ethier with the idea to sign Swisher or Michael Bourn instead.

However, a person with knowledge of the Dodgers said they had only one talk with Swisher's Century-City based rep, Dan Lozano, regarding Lozano and it came "weeks ago.'" The person said Swisher is nowhere near their radar.

Speaking of the Dodgers' one Swisher conversation, the source said, "It went nowhere.'"

Swisher has hit at least 20 home runs in eight straight years and has a .361 career on-base percentage, but he is hurt by having a draft pick attached to his signing following the Yankees extending the $13.3-million qualifying offer.

He will still get a great contract. The Indians, who need a right fielder after trading Shin-Soo Choo, wined and dined him, and are believed to be willing to offer him a four-year deal, probably in the range of $13 million.

But Swisher, who loved New York and lives in L.A., presumably doesn't have Cleveland as his first choice despite being from West Virginia and playing at Ohio State. Swisher dumped his rock-solid longtime Ohio-based agent Joe Bick to hire a Hollywood type, so if anything he is moving away from his Ohio roots.

The Yankees are not going to bring back Swisher because they are concerned about getting below $189 million for 2014 (and maybe a bit worn down by Swisher's October struggles). The Giants, said to be a top choice of Swisher, told him no once they re-signed Angel Pagan for $40 million over four years, which was their goal.

The Red Sox have a full outfield at the moment, the Mets aren't spending the kind of money it would take to land Swisher and other teams are reluctant to lose the draft choice. The Mariners and Phillies are thought to have some interest, but Swisher is known not to have Seattle on his current tour, which just went through Cleveland, and the Phillies may be focusing more on Cody Ross and others. The Rangers are another possibility, as they are checking out the best of the free-agent market after Josh Hamilton surprised everyone and went to the Angels.

Hamilton's presence is forcing the Angels to look at a trade for either Kendrys Morales, Peter Bourjos or Mark Trumbo. But it appears Swisher will not force the Dodgers into a similar move.

As for Ethier, there's no evidence the Dodgers are shopping him, and while they'll listen, a weak second half means it'd be hard for anyone to take the full $85-million contract Ethier signed only months ago. Ethier's name came up in a couple talks, but a source said no team has made an actual offer. One team that could have some interest is the Mariners, who seek to bolster, their weak lineup.

If the Dodgers did trade Ethier, Michael Bourn would seem to make more sense for them since the Dodgers don't have a leadoff hitter and may not mind moving superstar Matt Kemp to cut down on his wear and tear a bit.

But even that scenario doesn't seem to have a great chance to happen. "Barring injury,'" one Dodgers connected person maintained, "there is about a 100 percent chance Andre Ethier will be the [Dodgers] Opening day right fielder.''