A-Rod gets his own doctor, who suggests on WFAN he is unhurt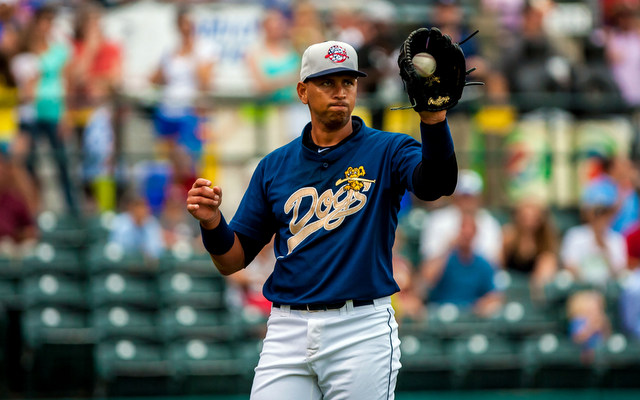 Alex Rodriguez got a second opinion on his own from a New York-area doctor who says he isn't injured and should be able to play, a difference from the slight quad strain the Yankees doctor diagnosed after A-Rod had come to them complaining of quad discomfort.
A-Rod's handpicked doctor, Michael Gross of Hackensack, N.J., told Mike Francesa on WFAN that he diagnosed no strain and that A-Rod should be able to play -- though Gross seemed to soften his remarks later when questioned by New York newspapers. The Yankees' doctor, Chris Ahmad, had called it a Grade 1 (mild) strain, after an examination following Rodriguez's complaints about discomfort.
Gross told WFAN, "I didn't see any sort of injury," but later conceded it's possible a different doctor might have read the MRI film differently. A Yankees person told CBSSports.com they don't believe Gross even saw the same MRI, since Columbia-Presbyterian Hospital, where Ahmad examined A-Rod, said nobody requested a copy and in fact Rodriguez declined to keep a copy for himself.
"I really didn't give a second opinion. I looked at the MRI and didn't see much," Gross told Steve Marcus of Newsday. "I spoke to Alex on the phone. He said he feels no pain. A radiologist may look at it and see more than I did."
Rodriguez's quad complaints came with a day to go on his rehab assignment, spurring the Yankees to get the MRI.
The Yankees are now in the process of finding Gross to have him consult with Ahmad.
Rodriguez spokesman Ron Berkowitz didn't immediately return a message.
A-Rod has a possible suspension looming based on his ties to Biogenesis, which are suggested by sources to be more extensive than those of Brewers star Ryan Braun, who recently accepted a 65-game ban in a plea deal. He appears to be trying to get back on the field by going for a second opinion outside the team -- though that doesn't affect MLB's timetable.
Yankees people have said A-Rod's strain is less severe than Derek Jeter's but were surprised to hear there was an A-Rod doctor saying he didn't find any strain.
The Yankees have insurance on Rodriguez covering up to 80 percent if he becomes disabled to the point of being unable to play. Additionally, Rodriguez is a rare player who carries his own insurance.
The Yankees could use both Jeter and A-Rod back, as injuries and offensive woes have kept them from the top of the division. The team continues to look for hitters in trade while it awaits its returning stars, including also Curtis Granderson.
It'll be interesting to see whether Rodriguez beats the MLB authorities back to the field. If a suspension is handed down, and he appeals, he is allowed to play until the appeal is heard and a ruling is made.
But, while some remain skeptical as to whether Rodriguez will return before a possible ban, his injury isn't viewed as so debilitating it would keep him out of action for an extended period. By rules, though, he has to sit five days after a rehab stay is up, so he could be back on a new rehab assignment by next week.
Jeter is eligible to come off the disabled list Saturday, but Yankees sources aren't saying whether he'll be ready. They are however saying that, when Rodriguez starts a new rehab, it shouldn't be too long before he'll be ready. An MRI confirmed a less-severe-than-Jeter's Grade 1 left quad strain.
That jibes with what scouts saw on the respective superstars' first rehab forays.
"A-Rod was way ahead of Jeter," one National League scout said. "Jeter didn't want to put pressure on his leg. You could see it when he tried to hit the outside pitch. It was all upper body. Jeter's always been able to handle the outside pitch as well as anyone.
"A-Rod was very flexible,'' the scout continued. "You can see his hip will never be the same, and he'll never have the same type of quickness. But he squared up a couple balls and still has power."
So at least Rodriguez has that going for him.