Deron Williams chooses Brooklyn Nets, agrees to five-year deal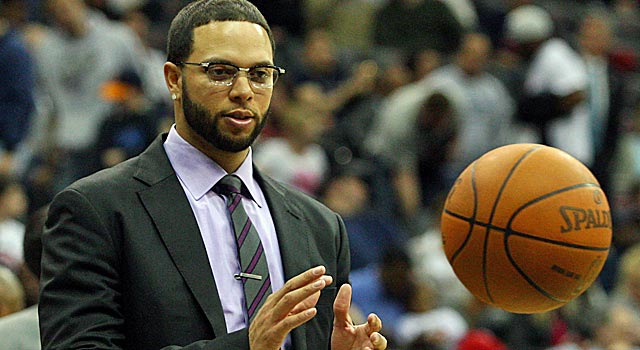 The Nets took a big risk in trading for Williams, and it pays off for both.
(Getty Images)
Deron Williams announced on Twitter Tuesday that he's chosen to join the Nets in Brooklyn. The All-Star point guard tweeted a pic of the Nets' Brooklyn logo shortly after agreeing to a five-year deal worth approximately $98.75 million.
Williams chose the Nets over the Dallas Mavericks and will join an All-Star backcourt with Joe Johnson, acquired from the Atlanta Hawks a day earlier. The Nets remain in trade discussions with Orlando in the event they can find a way to persuade the Magic to trade the disgruntled All-Star to Brooklyn, long his preferred destination.
But the signing of Williams was satisfaction enough, culminating a high-risk, high-reward strategy that began with acquiring the point guard from the Utah Jazz, continued with trading a lottery pick for Gerald Wallace and reached all-in status Monday with the acquisition of Johnson and the $89.3 million remaining on his contract over the next four seasons.
The Nets, moving to Brooklyn after an enigmatic existence in New Jersey, had so much riding on Williams' decision. Though executives and agents across the NBA believed all along that Williams would choose the extra year of security the Nets could offer, Brooklyn front-office executives weren't going to rest until they surrounded him with enough talent and heard from Williams himself that he was on board.
Even without Howard, who is mired in an ugly staredown with the latest version of the Orlando front office, the Nets promise to be vastly improved with Williams, Johnson, Wallace, a re-signed Brook Lopez and perhaps Kris Humphries, who are restricted and unrestricted free agents, respectively. The Nets also agreed to a three-year, $15.675 mid-level deal with Bosnian sharpshooter Mirza Teletovic and acquired bruiser Reggie Evans from the Clippers in a sign-and-trade for a future second-round pick Tuesday.
The Nets still have the bi-annual exception of $1.96 million and minimum deals to fill out the roster, and could add more pieces if they find a taker for Humphries in a sign-and-trade deal. Brooklyn has held onto the bigger of its two trade exceptions, a $3 million hole from the Shawne Williams deal, in the event it could be used to absorb salary from Orlando in a possible trade for Howard.
The possibility of adding future Hall of Fame point guard Jason Kidd, however, seems to have diminished as other teams -- including the rival Knicks -- could offer more. New York can offer at least the $3 million taxpayer mid-level, and perhaps more if they lose either Landry Fields or Jeremy Lin in free agency. Fields received an offer sheet from Toronto Tuesday, and Lin will receive a lucrative, back-loaded offer from the Houston Rockets Wednesday, sources said.
For the Nets, long obscured by the Knicks' shadow in the New York market despite a more recent string of playoff appearances and two trips to the Finals in the 2000s, the enormity of this coup cannot be overstated. They have two All-Stars in their primes -- Williams just turned 28 and Johnson is 31, six months older than Dwyane Wade -- with pieces that fit around them.
The longest of long shots would be to cobble together enough assets and cap relief for Orlando to send them Howard, who has been angling since at least December to join Williams in Brooklyn. The Magic have not ruled out sending Howard to the Nets, but also are engaged with several other teams including the Lakers and Rockets.