The Lakers win, order is restored to the universe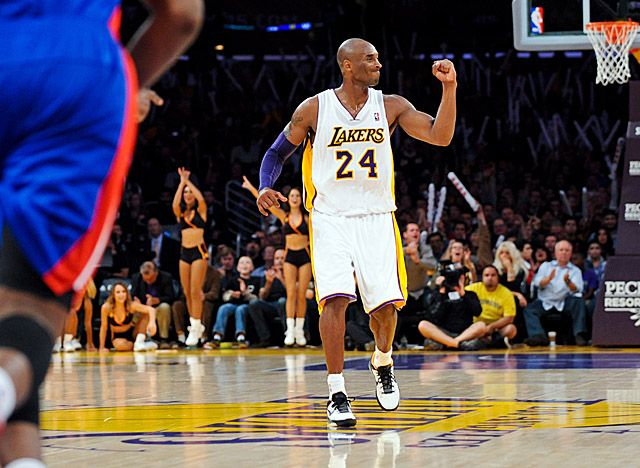 Kobe Bryant tallied 15 points, eight assists and seven boards in the Lakers' first win of the season. (Getty Images)
First, let's get one thing straight: The basketball-watching public wasn't enjoying the Lakers' 0-3 start nearly as much as it enjoyed the Heat's early-season struggles two seasons ago. Not even close.
The truth is, we need the Lakers to be good. If the Lakers were bad, the NBA wouldn't make sense. Everything we thought we knew about the sport would've been rendered meaningless. If the Lakers had kept losing -- and losing and losing and losing -- then the joy that comes from beating the Lakers would've been gone, too.
And that, people, would be no fun. The world needs more fun right now.
So mercifully, blessedly, the Lakers ended their three-game losing streak Sunday night -- 11, if you count preseason -- by feasting on the carcass that used to be the Detroit Pistons. It was as satisfying a meal as you will see consumed in today's supposedly competitively balanced NBA, a 108-79 thrashing that left not a scrap of ammunition for the naysayers.
The defense was no longer broken. The offense ran smoothly and at a modern tempo. Dwight Howard, master of impersonations, decided it was time to stop imitating Priest Lauderdale.
Kobe Bryant didn't have to waste 40 minutes, points or both on another head-scratching loss, nor did he have to emit confusing rhetoric from his perch at the postgame interview table afterward.
If you really want to be nit-picky in a what-happens-to-the-Knicks-when-Amar'e-comes-back kind of way, you could paraphrase Derrick Coleman and say, "Whoop-de-damn-do. Let's see the Lakers play this well when Steve Nash comes back."
All in all, I find myself mostly agreeing with another noted philosopher, Gregg Doyel, who never overreacts or piles on or kicks anyone when they're down or anything of the sort. When the Lakers were 0-2, Doyel wrote that everyone needed to calm down -- that the Lakers, in the end, would be fine in the same way the Heat ultimately were fine when their Big Three came together in 2010-11.
Though one has nothing to do with the other from a tactical standpoint, he's essentially right in spite of some key differences between these two case studies in NBA super heroes.
For one, when the Heat's Big Three came together, it represented an unprecedented union of all-NBA players in the prime of their careers with a wide-open window for winning. Also, LeBron James, Dwyane Wade and Chris Bosh taunted us with their greatness and celebrated before they'd won anything. Bryant, Howard and Nash -- having logged a combined 40 years in the NBA with Bryant the only champion among them -- knew better.
When the Lakers acquired Nash and Howard during the summer, they were replicating the Big Three model in a way that was more like the Celtics' amalgamation of veteran stars in 2007 than anything the Heat did in 2010.
There are a couple of important similarities between the Heat of 2010-11 and the Lakers of 2012-13, and we shouldn't ignore them. For one, both teams and their respective coaches understand that it will be defense, not offense, that determines their championship destiny. For another, both Erik Spoelstra and Mike Brown have fallen into the same early-season trap: emphasizing halfcourt offense over the more time-appropriate transition game.
The Heat didn't reach their full potential until Spoelstra lifted his foot off the offensive brake and let his athletes play faster. The Lakers, even without Nash, showed signs of doing the same Sunday night -- turning stops and turnovers into transition points and early-offense mismatches.
As a group, the Lakers are older, slower and less athletic than the Miami team that came together three summers ago. No matter how long Mike D'Antoni remains unemployed, the Lakers are never going to be a seven-seconds-or-less offensive juggernaut. But there is such a thing as balance, and that is what Brown and the Lakers will be trying to find once Nash returns from a shin fracture. Nash is expected to miss 7-10 days, a person briefed on his medical prognosis told CBSSports.com Monday.
Brown is a defensive coach, and the Lakers must be a defensive team to sidestep the Thunder and Spurs en route to their seemingly destined meeting with Miami in the NBA Finals. Having been groomed in the San Antonio incubation chamber and slugged out many a playoff victory in Cleveland, Brown believes a championship team must be able to function and thrive amid optimal ugliness. He also knows that in a league that plays smaller and faster every year, good defense must result in easy offense -- that you can't Mike Fratello anyone to death in this sport anymore.
So the infamous Princeton offense -- referred to, aptly, by Bruce Arthur of Canada's National Post as "basketball socialism" -- won't be the only answer. Once the Lakers figure out how to run it, the read-and-react, equal-opportunity system will be an effective tool against the grindstone of halfcourt, every-possession-is-precious playoff basketball. Statistically speaking, offense has hardly been the Lakers' biggest problem so far, anyway.
But the overwhelming reaction from numerous rival executives I've chatted with about the Lakers' inauspicious start has focused on Nash, a 38-year-old point guard who is ill-suited to a system that emphasizes death by the dribble-handoff instead of the beauty of the pick-and-roll. Nash simply didn't look like Nash in his first two games as a Laker. To quote Arthur's column again, Nash looked more like a "hummingbird trapped in a plastic bag," as Grant Hill once described him when another defensive-minded, halfcourt-oriented coach, Terry Porter, tried to rein in the Suns' quick-strike offense after D'Antoni left for New York in 2008.
Back then, Porter tried to make Nash conform to a post-oriented offense centered around Shaquille O'Neal, and the results were a lethal combination of ineffectiveness and boredom. When Nash returns, Brown needs to be careful not to fall into the same trap, or he will find himself in some television studio watching Nash do what he has done his entire career -- make an offense flourish in such a way that's not only pleasing to watch but also unstoppable.
Brown is fond of saying he'll "stay the course," and, truth be told, he seems to rather enjoy the adversity that comes with his history of slow regular-season starts. Overcoming that adversity and sticking with a plan has a way of galvanizing a locker room.
But Brown also would do well to study the flexibility and willingness to change exhibited by Doc Rivers in Boston and Spoelstra in Miami when the schemes drawn up in offseason skull sessions proved to be not enough. This is Brown's challenge: sticking to his philosophy while also being willing to change.
So while Nash is watching from the bench for the time being, the Lakers need to do more of what they did Sunday night -- turn stops and turnovers into at least the occasional quick, easy basket. They need to establish the habit of pushing the tempo at the start of the shot clock so that when Nash returns to the fray, he'll resemble Steve Nash instead of Smush Parker.
There will be plenty of time for grinding out halfcourt wins in the playoffs, something Brown takes an unusual amount of pride in. But these Lakers are built to me more than that. And if you keep the hummingbird trapped in the plastic bag too long, it'll run out of breath.
When the Lakers fell to 0-3, I was glad I didn't waste a column on their struggles when they were 0-2. Like the Heat of 2010-11, the more the Lakers lost, the easier the pinata would be to hit.
Now that they've won a game and the NBA universe has fluttered closer to its true alignment, we should all feel better. When it comes to the Lakers, you want them on that pedestal; you need them on that pedestal. What fun would it be if they fell off this soon?