Sources: Phil Jackson leading candidate, wants Lakers job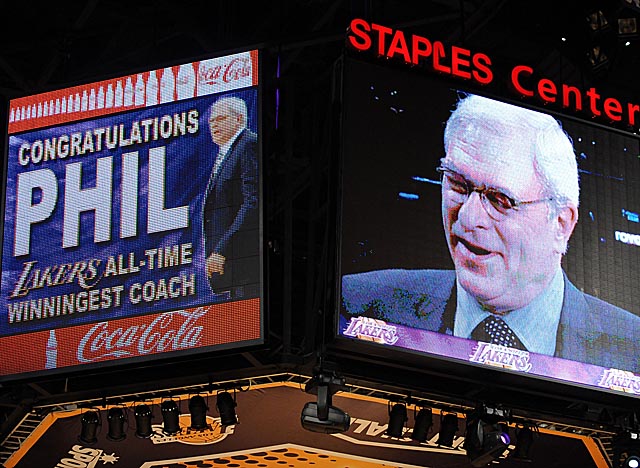 Jackson, now eyeing a third stint with the Lakers, became the team's all-time winning coach in 2010. (Getty Images)
UPDATED: 5:14 p.m. ET
Phil Jackson has emerged as the clear leading candidate to be the Lakers' next coach, and two people connected to the 11-time champion coach told CBSSports.com on Saturday that all indications point to Jackson wanting the job.
"Phil wants it," one of the people with ties to Jackson said.
More on Los Angeles Lakers
Related links
More NBA coverage
League sources told CBSSports.com on Friday that key figures in the Lakers organization had concluded Jackson was the best -- and perhaps only -- choice to take over the star-laden roster with the hope it will fulfill its championship potential. It would mark Jackson's third stint with the Lakers, where he won five of his NBA titles before stepping down after the 2010-11 season.
The Los Angeles Times reported that Jackson met with Lakers officials Saturday, citing sources who believed there was a "95 percent chance" Jackson would succeed Mike Brown, who was fired Friday after a 1-4 start. Two key Jackson assistants, Kurt Rambis and Jim Cleamons, are available and ready to join Jackson, 67, if he decides to reunite with the Lakers yet again, sources said.
Bernie Bickerstaff will coach the team Sunday night against Sacramento while discussions with Jackson and other candidates develop, league sources said. One of the people with ties to Jackson said Saturday there were a "couple more steps" that needed to be addressed before an agreement could be reached on Jackson's return.
"Just meeting of the minds and other details," the person said.
Among the details is believed to be Jackson's disdain for the circus-like travel schedule kept by NBA teams. In the past, Jackson and the team had discussed an arrangement whereby Jackson would not attend all road trips, but the impractical solution was never adopted.
Under Bickerstaff, the Lakers on Friday ditched the controversial Princeton offense installed by Brown and assistant Eddie Jordan and beat the Golden State Warriors 101-77 Friday night, with fans at Staples Center chanting, "We want Phil! We want Phil!"
After the game, five-time champion Kobe Bryant made it clear he too wants Jackson to return.
It was unclear Saturday how long it would take to negotiate details of a potential Jackson return with the coach and his agent, Todd Musberger. Among the issues to be decided would be the timing of Jackson's debut, if he followed through and accepted the job.
The Lakers host Sacramento on Sunday night, the second game in a six-game homestand. They host San Antonio on Tuesday night, then have two practice days before their next game, Friday at home against Phoenix -- a sufficient window for a coaching transition.
Should Jackson balk at a return for health or other unforeseen reasons, it is strongly believed the Lakers would turn to former Suns and Knicks coach Mike D'Antoni, whose history with Steve Nash in Phoenix, not to mention with Bryant and Dwight Howard in his role as a U.S. national team assistant, would make him a strong fit.