Sources: O'Neal, Blanks in heated row as Suns transition to new coach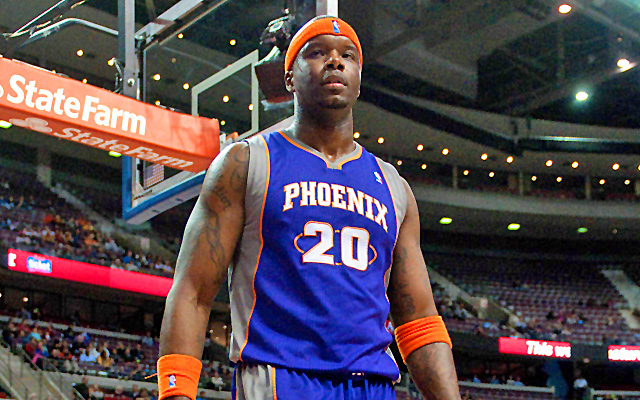 Jermaine O'Neal and GM Lance Blanks were involved in a heated argument after a practice.
(US Presswire)
UPDATED and CORRECTED, 4:21 p.m. ET
As the Suns have come unraveled with their third consecutive non-winning season and a coaching change, the frustration has spilled over into the locker room.
Veteran Jermaine O'Neal and general manager Lance Blanks were involved in a heated, expletive-filled argument after interim coach Lindsey Hunter's first practice Monday, league sources confirmed to CBSSports.com. One person familiar with the tirade called it a "clearing of the air," but there are many issues remaining for the Suns to clear up before Hunter makes his coaching debut Wednesday night in Sacramento.
Among them, sources said, is O'Neal's concern about what his role will be under the new coach. Though O'Neal and Hunter never had any personal issues before, sources said O'Neal's concern may have stemmed from his sense of loyalty to Alvin Gentry, who was removed last week in what the team described as a mutual parting of the ways. Hunter is known to have been Blanks' choice to succeed Gentry.
Another player said to be upset with Gentry's removal is point guard Goran Dragic, a league source said.
Yahoo Sports reported that O'Neal's confrontation with Blanks, in the coach's office, was so loud that players could hear it from the locker room.
Hunter will be the coach for the remainder of the season, after which Blanks said the job will be re-evaluated.
After three practices under Hunter, the Suns still don't know who will be on his coaching staff. Assistant Dan Majerle also left with Gentry, but former lead assistant Elston Turner did not attend practice for the third day in a row Tuesday. Turner's role with the team, if he stays in Phoenix at all, has yet to be determined after he was passed over for the head coaching job.
If Turner and the Suns part ways, the team is expected to look within the organization to fill out Hunter's coaching staff. Corey Gaines, who has WNBA coaching experience and has served as a scout and player development coach for the Suns, is a likely addition to the bench, sources said.
The Suns have lost 13 of 15 games. O'Neal, 34, was signed to a one-year minimum deal for this season and is averaging 6.4 points and 4.1 rebounds in 32 games off the bench.