Howard says accomplishments with Magic 'can never be taken away'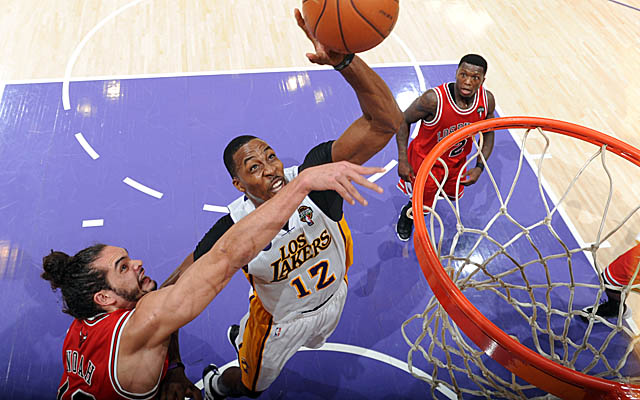 ORLANDO, Fla. -- Dwight Howard got to see the house he still has in Orlando, and an even more important dwelling called the Waffle House -- an appropriate venue, considering the way Howard left here. Suffice it to say the prelude to Howard's return to face the Magic Tuesday night was much more enjoyable than the event itself will be.
At least for him. For the Magic fans who will pack the Amway Center with the kind of energy it's lacked since Howard left, this is their one-and-done playoff game, a showdown steeped in NCAA tournament kind of drama.
It's the first time Howard has faced his former team in Orlando since his long, painful exit. In fact, it's the first time Howard has been to Orlando since he left for LA last spring to undergo back surgery. An even more complicated procedure to rehabilitate his public image is a work in progress, but for now, Howard can only brace for the reception that awaits.
"We had a lot of great memories here and that will never be taken away from me [or] from the people who supported us," Howard said on the Amway Center court during shootaround Tuesday. "I had eight great years here; we did a lot of great things. I saw the city go from [having] nobody in the stands to we got a new arena and a packed house every night to see our team play. So it was great to see that.
"I've said it plenty of times, I have nothing but love for the fans here," Howard said. "They made me into the player that I am today, and I'll always be thankful for that. I came here a boy and I left a man and it made me a better person by being here. So thank you to all the fans who supported me, even throughout all the bad times."
Contrition from Howard, along with his public apology to fans and teammates in a USA Today interview this week, weren't the only backdrops for Howard's return to Orlando with the Lakers. There also was the back-and-forth between Howard and former teammates after Howard said his team in Orlando was "full of people nobody wanted." Former teammates J.J. Redick and Rashard Lewis responded by questioning Howard's credibility and truthfulness, and Jameer Nelson -- Howard's only former teammate who will be on the floor for the Magic Tuesday night -- chided Howard to "take ownership."
Nelson said Tuesday that the public apology from Howard was the only one he got. Howard said he reached out to Nelson but that the two have not spoken.
"You make friends in the course of your life, and that's on the court and off the court," Nelson said Tuesday. "And some of them stick in your life and some of them don't. We still have a lot of life to live and hopefully we can be friends after basketball."
When pressed on whether he still considers Howard a friend, Nelson said, "He's not a bad guy. I don't see why everybody's making him out to be such a bad guy. We all make mistakes and make decisions we have to deal with. ... I always told him from Day 1 that he had to make a decision for himself and for his family, and whatever decision it was, stick with it and move forward. And I always wished him the best."
The anger that Howard undoubtedly will hear from Magic fans Tuesday night emanates more from the way he left -- the indecision, the waffling, which makes Howard's trip to the Waffle House on his return to Orlando all the more delicious. But this was not an area that Howard wanted to explore as he spoke with a crowd of about 50 reporters on the Amway Center court Tuesday.
"All that stuff is over with now," Howard said. "Today's a new day. Whatever happened in the past, I'm going to leave it behind me. And like I said, I have nothing but love for the fans here. They treated me well. It didn't end right, the way we all wanted it to end. But I'm in a better place and everybody has to move on."