As Rick Adelman joins 1,000-win club, his future on the sideline is in doubt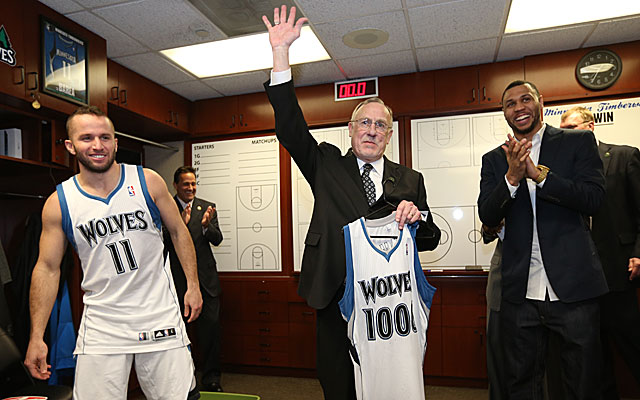 UPDATED 11:44 p.m. ET
In a frustrating season when wins have been terribly hard to come by, Rick Adelman became the eighth NBA coach to register 1,000 victories on Saturday night as the Timberwolves beat the Pistons 107-101.
There's no question about Adelman's coaching ability. You don't need the names of the other seven 1,000-win coaches to know that, but here they are, just in case: Don Nelson, Lenny Wilkens, Jerry Sloan, Pat Riley, Phil Jackson, Larry Brown and George Karl. Everyone on that list will tell you Adelman is a better coach than he is. As far as who on the list is the best innovator, it's a tossup between Adelman and Nelson.
"It's special people," Adelman said. "Some of the names up there, it's incredible. I never, ever expected to be with that group. But like I said before, I have had some really special situations and we were able to stay a couple of places for a long time, which doesn't happen in this league very often. To get that many wins, there are good players involved and good coaching staffs involved and good organizations involved. It was special to get this."
The only question about Adelman, of course, is whether he will add any victories to his total beyond this season. His well-chronicled time away from the Wolves this season to support his ill wife has led Adelman to publicly ponder whether he will be back on the sideline for the 2013-14 season. As it turned out, Adelman was able to achieve the milestone at home, so his wife, Mary Kay, could be there.
"She has been there all the years," Adelman said. "When you go through a job like this in situations and you move and raise six kids and everything else -- if it wasn't for her, I couldn't have done it."
Adelman, 66, is the fifth-fastest coach to reach the 1,000-win milestone, accomplishing the feat in 1,703 games. Jackson was the fastest, in 1,423 games, followed by Riley (1,434), Sloan (1,663) and Karl (1,679). He has the fifth-highest winning percentage (.587) on the list. He has nothing more to prove, so if family concerns pull him away from the game, no one will blink. Basketball is basketball, and the health of your family is far more important.
If it does end this way for Adelman, it will be a shame, though. This miserable, injury-ravaged season for the Wolves is not the way a Hall of Fame coach should go out. Minnesota looked like a playoff team on paper heading into the season but lost Kevin Love for all but 18 games. Ricky Rubio returned after missing 26 games but has struggled with his shot ever since. The injured list goes on and on -- Nikola Pekovic, Andrei Kirilenko, Josh Howard, Chase Budinger and of course, Brandon Roy.
Not even Adelman, as good an offensive coach as there is in basketball, could patch things together with all those injuries. When this season finally grinds to an end, it will go down as only his sixth losing season in 22 years on an NBA bench.
Hopefully not his last, mind you. But if it is, his legacy is complete and his off-court responsibilities outweigh all of it.