Joe Flacco's new deal will change the going rate for quarterbacks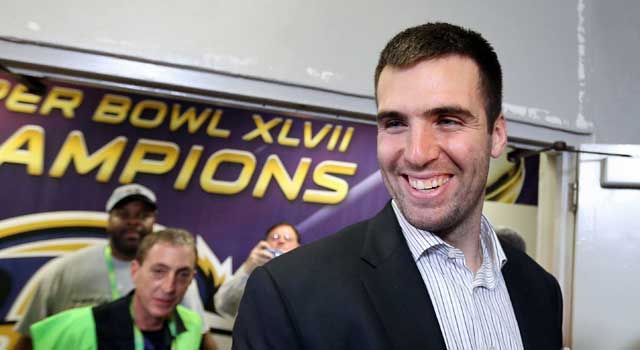 Joe Flacco will set the bar for many quarterbacks to come. (US Presswire)
There was a time when a big contract signed by a free agent had a ripple effect around the league. I remember when Reggie White signed with the Packers in the first big free-agent deal. I was at the Jets at the time and led our campaign to attract Reggie with a four-year $16 million deal. He went to Green Bay for close to the same money.

The White deal had a ripple effect felt around the league.

High-priced free agents like White changed the structure of contracts, with more guaranteed money than ever before. It was only the beginning of league-changing deals.

The New York Giants put a mega deal together to retain Michael Strahan, which once again upped the ante for pass rushers around the league.

Those two moments in NFL contract history are memorable, and created a ripple effect felt around the league. But the Joe Flacco situation is going to cause more than a ripple effect. It may cause a tidal wave.

Flacco is the catalyst to a perfect storm for teams trying to sign or retain quarterbacks.
[La Canfora: Flacco has leverage for the time being]

Last summer Flacco bet on himself when he turned down a solid offer from the Ravens over wanting more money. He won the Super Bowl and the game's MVP and now he's in the driver's seat. Coupled with the lack of growth in the 2013 salary cap and that a team like the Ravens really can't afford to use the exclusive franchise tag on Flacco and incur a $20 million one-year cap hit, quarterbacks around the league are awaiting the results of his negotiations.

Knowing Joe Flacco, and based on his most recent "bet on himself" attitude, he may play under the tag and force another tag at something close to $24 million.

There are a number of quarterbacks who know their new deals will work off the Flacco deal and even though some of the quarterbacks close to expiring contracts don't have Flacco's winning credentials they all stand to make more money after the Flacco deal is complete. For that reason alone we may not see any quarterbacks aside from Drew Brees doing deals, extensions or even restructures until the Ravens and Flacco come to an agreement. Here's a look at the quarterbacks in waiting.

Jay Cutler, Chicago Bears: He is in the last year of a deal that pays him $8.47 million this year. His five-year $50 million deal signed in 2009 looked like a solid deal but it will not even compare to the Flacco deal. Cutler sits and waits.

Tony Romo, Dallas Cowboys: He is in the last year of his deal that averages $11.2 million. The Cowboys talked extension back in August but didn't get a deal done and now they are scheduled to be over the cap by close to $20 million. Romo isn't about to add years to his deal until he sees what Flacco gets and the $11.2 million average isn't going to get it done, especially if Flacco averages closer to $20 million.
Matt Ryan, Atlanta Falcons: He has one year left on a deal that averages $11 million and the Falcons would love to create some salary cap space by leaning out Ryan's cap charge and adding years. No one is more tied to Joe Flacco than Matt Ryan because they came into the league in the same draft. Whatever the Falcons thought was the right deal two months ago, won't be, as they'll be paying more when the Flacco deal is resolved.

Aaron Rodgers, Green Bay Packers: He has a contract through 2014 that he signed in 2008 for $65 million, or an $11 million average. Rodgers may be the biggest beneficiary of the new Flacco deal because his agent will claim Rodgers is better than Flacco. How do the Packers proceed with Rodgers before the Flacco deal is done?

Josh Freeman, Tampa Bay Buccaneers: Freeman is entering the last year of his deal in Tampa Bay, which pays him $8.43 million. He certainly hasn't done enough to warrant anything close to the new Flacco deal, but he stands to get a substantial bump in his new deal because of Flacco.

These five quarterbacks are positioned to reap the benefits of the Flacco deal, which will add close to $100 million to their collective contracts.

Six-year, $72 million-dollar deals like Matthew Stafford signed, or the seven-year $107 million deal Eli Manning signed(both in 2009) are going to give way to six-year deals that average close to $20 million per season.

In 2014, when the NFL salary world is readjusted to what elite quarterbacks make, along come Colin Kaepernick, Andy Dalton, and Cam Newton off their rookie deals. OUCH! Plus, Tom Brady will be in the last year of his deal and looking for another contract.

Teams up against the salary cap looking to create more space by converting salary to signing bonus with their elite quarterback are going to find it close to impossible to get it done by adding more years to deals that are starting to wind down. Every solid quarterback is going to want to get in on the new market and ride the wave created by Joe Flacco.

The Ravens brass and Flacco's agent are to meet in Indianapolis this week and all the other 31 teams are wondering how much money the new Flacco deal is going to cost them going forward. Unless something unpredictable happens, we are entering the brave new world where quarterbacks are going to average close to $20 million a year if you want to keep your "franchise" signal caller on the roster.

I remember like it was yesterday when Tom Brady signed a four-year extension in 2010 for $72 million with close to $50 million guaranteed, making him the highest paid quarterback. A lot of clubs would love to get their quarterback to sign that deal by next year.

The bigger question than securing a franchise quarterback at the new going rate will be can a Super Bowl winning team be built around a quarterback that takes up so much of the salary cap? Even though teams may feel this is a weak draft class for quarterbacks it may make more sense to draft one and try and build around a relatively cheap young player than get involved in the super money. Should teams like the Bears, Buccaneers and Texans avoid the big-money contracts and draft again?

They'll have more facts to answer that question once Flacco signs.