Pete's Pics: Griffin shows more poise in the pocket
How would Robert Griffin III adjust last week with a bad knee limiting his ability to move?

That was an important question for the Redskins against the Eagles, but also an important one moving forward as he evolves into more of a pocket passer, which he has to do.

There were a handful of throws by RG3 from that game that really impressed and lead me to believe he should be doing even more from the pocket.

The first is a 27-yard strike to Pierre Garcon. You can see the play here. Garcon (blue circle) was lined up in the right slot inside of Santana Moss (yellow circle). Moss showed a reverse action, while Garcon ran a deep cross and Leonard Hankerson (red circle) ran a go route. RG3 took the snap, faked a run to Alfred Morris, faked the end around to Moss and then looked deep to Hankerson. But he was doubled on the play. RG3 looked to him first, then came to Garcon and dropped a perfect pass over the linebacker's hand and in front of the safety.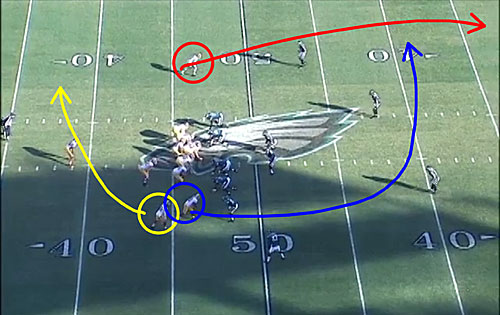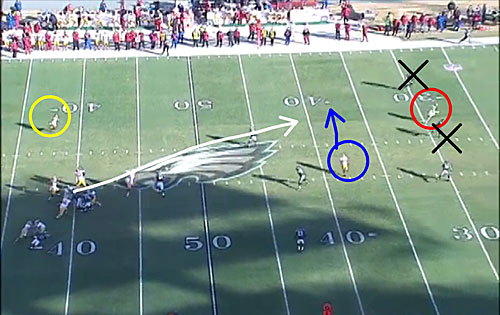 The second play that impressed me was the touchdown throw to Moss that showed off his touch. Moss (red circle) ran a post corner route. He was pretty well covered on the play, but RG3 threw a nice touch pass to the end zone and Moss hauled it in for the score with a nice toe-tap.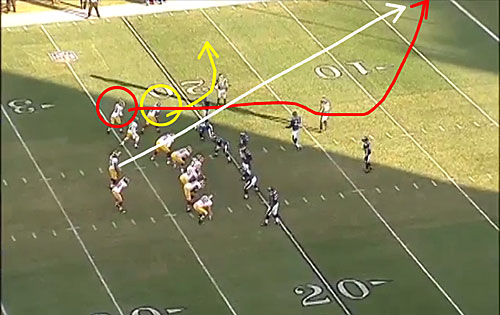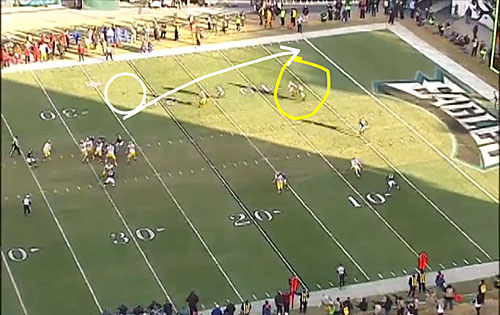 The touch on the pass was impressive for a guy like RG3 who has the big arm. Those are the small things that we are seeing from this special rookie that show he is growing as a passer, which I think he has to do for long-term success.


Dez Bryant is on fire

In After Further Review this week, I highlighted how well Tony Romo was playing for the Dallas Cowboys. Well, it wouldn't be possible without receiver Dez Bryant, who is playing great football.

Bryant went wild against the Saints last week, a team that foolishly tried to handle him in man coverage. Twice he beat corner Patrick Robinson in man coverage. Once, it was on a deep ball for a 58-yard score.

But it was Bryant's second touchdown, again a 58-yarder, that showed off his power, speed and strength.

Here's a look.

Bryant was lined up wide left outside of tight end Jason Witten. Robinson was lined up in man-press coverage. At the snap, Bryant (yellow circle) ran a hard inside slant, and used his hands to get away from Robinson. Romo put the ball at his face and Bryant plucked it out of the air. The play should have been good for 12 yards or so. But Bryant turned it into a special one. He made Robinson miss at the 50, and then when he broke into the clear, he stiff-armed safety Isa Abdul-Quddus at the 40 with his right hand, kept the ball high and away in his left, and he was off the end zone.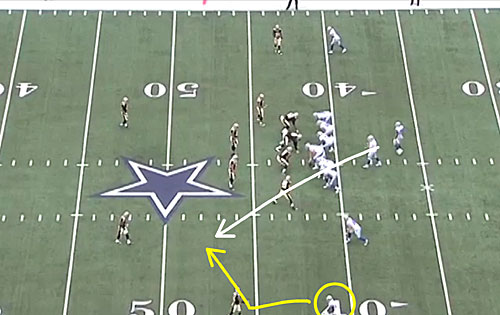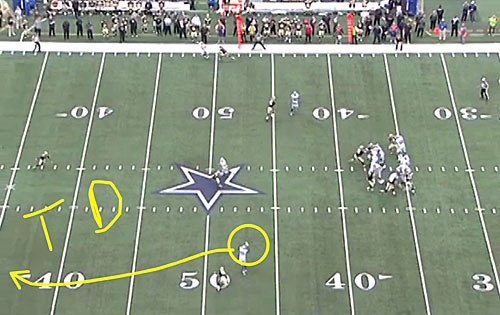 Bryant has matured into one of the NFL's best receivers. Watch out this week against the Redskins if he is left in man coverage. And in 2013, he will be truly special.


Big Ben's big blunder

Sometimes you see a play and you wonder what the heck the quarterback was thinking. That's what I did when I saw Ben Roethlisberger throw a pick-six into the stomach of Bengals cornerback Leon Hall last week. Watching it on tape, it's even more mind-boggling. How can a player with Roethlisberger's pedigree make that throw? He said he never saw Hall, but it's hard to believe that.

Here's a look. Tight end Heath Miller (yellow circle) lined up on the right side in the slot and then motioned to his left and back to the right before settling in the right slot. Hall went with him when he motioned, a clear indicator he was in man coverage on Miller. Roethlisberger has to know that. Miller ran an option route against Hall, driving to the inside when he should have probably optioned to the outside. Hall jumped inside of Miller, as you can see by the second picture, and took it to the end zone for a touchdown. It was a nice play by Hall, but a horrible read by Roethlisberger.