The anatomy of acquiring a Triple Crown winner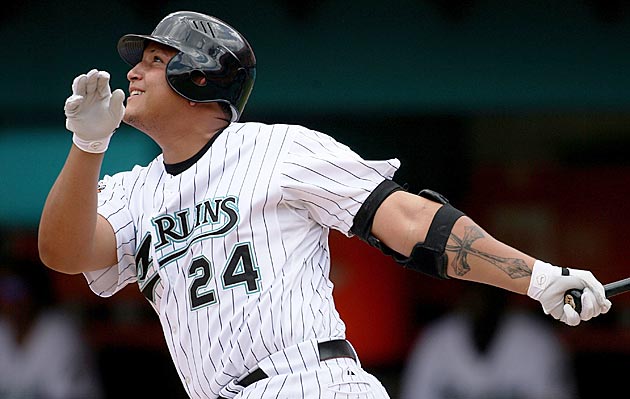 In four-plus years with Florida, Miguel Cabrera batted .313 and won two Silver Slugger awards. (Getty Images)
KANSAS CITY, Mo. -- The times in a general manager's life when he has an opportunity to trade for a franchise-changing player range from infrequent to never.
Which is why the Tigers' Dave Dombrowski went onto high alert when the Marlins put Miguel Cabrera on the market following the 2007 season.

"You don't usually get a chance to get that kind of impact player," Dombrowski recalls. "But it was unusual circumstances. Florida was not in a position to sign him long-term, and there were a lot of clubs interested."

In the words of one Marlins person, Cabrera simply got too good, too fast for them. He was only 24 at the time and already had logged four-and-a-half seasons in the majors. He was coming up on free agency and the Marlins were still years away from a new stadium.

Frozen in time for the Marlins, still, is Game 4 of the 2003 World Series when Cabrera, batting cleanup for them on the biggest stage at age 20, faced down the Yankees' Roger Clemens.

The Rocket went the intimidation route by zinging a fastball at Cabrera's head early in the at-bat. After diving out of the way and then knocking the dust off his uniform, Cabrera stood back up and drilled a home run.

Four years later, they were peddling him.

Several clubs were involved in the talks, and the early favorites to acquire him were the Angels. But something happened in private, each club accused the other of lying and misrepresenting in public, and talks blew up.

That was right about the time Dombrowski's home telephone rang one November evening.

"What about Miguel Cabrera?" Tigers owner Mike Ilitch asked Dombrowski. "I hear he's available?"

The Tigers did not have a set budget, but Dombrowski knew acquiring Cabrera would cause its gray area to bleed into the red.

"I think we can stretch our numbers if we can get a player like him," Ilitch told his GM.

It was akin to firing a starter's pistol.

Dombrowski wasted no time in jumping into the talks, and the Tigers and Marlins immediately moved into overdrive.

"For a trade that size, it was made very quickly," Dombrowski says. "It came down to Mike Ilitch's flexibility."

That, and a couple of other things: Dombrowski's aggressiveness, and the direct style employed by both Dombrowski and Marlins GM Larry Beinfest. Neither is scared to pull the trigger on a deal.

Talks started just before the winter meetings, and they concluded early during the winter meetings.

The Marlins asked for six players, including a couple of first-round picks in pitcher Andrew Miller and outfielder Cameron Maybin. The Tigers' stance was, if they were sending six players to Florida, they wanted at least someone back besides Cabrera. Enter starter Dontrelle Willis.

"The pins and needles part was that by the time we made the deal, the team doctors and trainers were traveling" to the winter meetings, Dombrowski says. "And we had to get the medicals done."

The Tigers had no concerns with Cabrera or Willis, but the Marlins wanted all of the young Tigers they were acquiring checked out.

Dombrowski had been the Marlins' GM when they signed Cabrera as a 16-year-old amateur free agent in 1999, though he had only met the slugger in passing. Al Avila, now Dombrowski's right-hand man in Detroit, was the Marlins' director of scouting at the time.

"Everyone always told me how he loved to play the game," Dombrowski said of those early days with Cabrera. "His ability for a 16-year-old was off the charts."

So was his ability at 24, when Dombrowski and the Tigers pulled off one of the rarest of trades, the acquisition of a franchise-changing monster.

"You know you've gotten a great player," Dombrowski says. "An All-Star type of player.

"I don't think you can ever say that you've gotten a Triple Crown winner, or a Hall of Famer. Just to say you've gotten an All-Star is something in itself.

"He was a good hitter. Now, he's maybe the most feared hitter in the game."

As Cabrera joins Ted Williams, Mickey Mantle, Lou Gehrig, Carl Yastrzemski, Frank Robinson, Jimmie Foxx and precious few others in the Triple Crown pantheon, for this year at least, you can remove "maybe" from that equation.