Johnson, Melvin lead baseball awakening in Washington, Oakland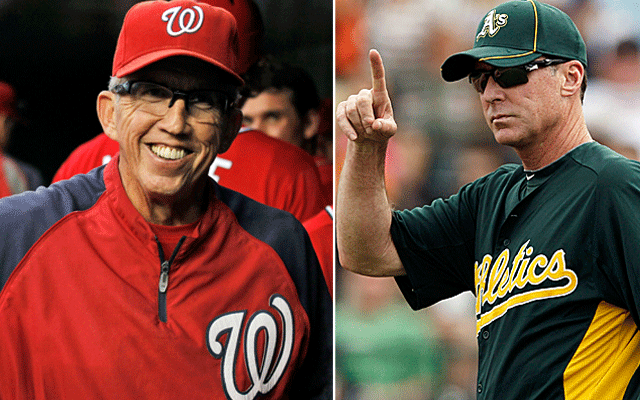 Davey Johnson (left) and Bob Melvin each won their second Manager of the Year award.
(US Presswire)
Best thing, hands down, about Davey Johnson and Bob Melvin winning the Manager of the Year awards Tuesday?
This is only the awakening.
In Washington, where the Nationals hosted the first postseason game last month since 1933 (that STILL blows my mind).
"I still feel we have a higher ceiling, that we can do better," Johnson says. "I'm looking forward to that challenge."
In Oakland, where the bottom-feeding Athletics showed this summer that they've got another young group that can rival the Mulder-Hudson-Zito run from the early 2000s.
"We feel pitching is a key in baseball," Melvin says. "Each year, you're seeing pitching win out. We have a lot of good, young pitchers. And good young position players, as far as that goes. And our front office is very creative in evaluating and acquiring players."
Both awards are richly deserved.
More Manager of the Year coverage
More MLB coverage
But before going any further, first, a short detour: Buck Showalter.
Talk about an awakening. Showalter shook Baltimore out of a deep winter's hibernation this summer in maneuvering the Orioles into their first postseason since 1997.
As legendary skipper Tony La Russa told MLB Network earlier Tuesday of Showalter and Melvin, "two of the best jobs in any time since I've been paying attention, and that's 30-some years."
Or as Melvin himself said after edging out Showalter, "I think two of the best stories in baseball this year were the Oakland A's and the Baltimore Orioles."
Agreed. You could have plopped Melvin and Showalter onto the sides of a pair of dice, rolled 'em 12 times, and 12 times they would have come up snake eyes – one die Melvin, one die Showalter.
Under Showalter, the Orioles went from 93 losses in 2011 to 93 wins in 2012. Using virtually the same roster -- and 120 different lineups -- Showalter maneuvered the O's to 24 more wins than in '11. They were an astounding 29-9 in one-run games and 16-2 in extra-inning games. That's a whole lot of correct managerial decisions, late.
But Melvin over the course of the season oversaw the rebuilding of Oakland's entire infield, an all-rookie rotation at one point, withstood the offseason trades of three All-Star pitchers and, with the second-lowest payroll in the game (only the Padres' was lower), won the AL West.
It was an amazing feat, as good a managing job as there's been in years. Thirty years? La Russa may be right. You cannot appreciate Melvin's masterful job enough.
Johnson, who turns 70 in January, boldly said this spring that he should be fired if the Nationals failed to make the playoffs. Then they lost closer Drew Storen to start the season, suffered many other key injuries (Michael Morse, Jayson Werth, Ryan Zimmerman, Ian Desmond and others).
Fact is, not once all season was Johnson able to use everybody at once from what the Nationals considered their first-tier lineup: Adam LaRoche (first base), Danny Espinosa (second), Zimmerman (third), Desmond (shortstop), Morse (left field), Bryce Harper (center field), Werth (right field) and Wilson Ramos (catcher).
Yet he still steered them to a major-league best 98 wins. The Nationals owned sole possession of first place in the NL East from June 5 through season's end.
Not everybody played to their capabilities, Johnson said, and he talked often Tuesday afternoon about that higher ceiling he continues to envision.
The experience of 2012, Johnson said, "is going to set us up to be even stronger and better, and that's the good news."
That's the news in Oakland, too. In young stud pitchers Jarrod Parker, Tommy Milone and Brett Anderson, and position players Yoenis Cespedes, Brandon Moss and Josh Reddick, the nucleus is there.
And as we saw in 2012, both in Oakland and in Washington, the right managers are in place, too.