Fred Couples' second round 67 has golf fans hoping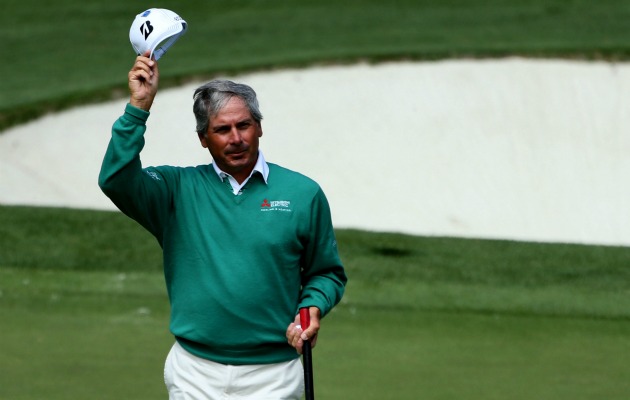 Fred Couples tips his cap to patrons after saving par on the 18th hole at Augusta National. (Getty Images)
AUGUSTA, Ga. -- There was a moment near the 7th green on Friday at Augusta National when a couple of patrons were watching Fred Couples walk up the fairway as the Georgia winds made jackets a necessity.
"Look at him holding his back," a buddy unfortunately dressed in shorts said to another friend. "This cold is probably killing him."
Little did they know that it was that exact moment when Couples would put together his third straight Masters charge since turning 50.
Couples sits at 5 under at Augusta National, atop a leaderboard that almost feels like fantasy. The days preceding the Masters might have been full of Tiger Woods and Phil Mickelson news, but this golf course decides who is worthy of its time, and so far, a 52-year-old former champion is turning back the clock at Augusta.
2012 Masters

The putter has always been the issue with Fred. In 2010, he opened the Masters with a fine 66, leading after one day, but followed that up with a 75, dooming his chances that left him sixth as Mickelson accepted his third green jacket. A year ago, Couples was sitting exactly where is this Friday, at 5-under, but couldn't replicate the magic on the weekend.
How does he deal with the demons from his Masters past? Well, he doesn't. Couples admitted after his 67 that he didn't even remember what happened a year ago, asking the media what exactly happened. Hearing he shot 1 over on the weekend, Couples simply said, "I don't want to shoot 1 over again."
That may be one of the reasons Rory McIlroy called Couples a cool guy, saying after his own fine play on Friday that has the U.S. Open champion just a shot back of Fred, "I hope I'm that cool when I'm 52."
For some reason, this golf course drops Fred down a decade or two. Asked exactly why that happens, Couples simply said that while a lot of golf tournaments feel simply like another stop on the grind that is the professional golf trek, this place is something special.
"This is really my favorite place in the world to play," Couples said after his round. "I feel like I'm young when I'm here."
The swing still looks young, and boy was it in sync on Friday. Couples poured in that birdie putt on the 7th after the friends discussed his back and followed it up with another birdie on the par-5 8th when he stuck a wedge just below the hole. The buzz started to build when Couples made another birdie bomb on the 9th hole from well below the hole.
The key to Couples round, however, might not have been those early birdies, it might have been the par save on the 11th, when he bailed out well right but was able to get it up and down.
Two more birdies on the 15th and 16th gave him seven for the day and a great par save on the tough 18th let him walk in with the lead.
The reality that most of us must face is a 50-year-old man isn't supposed to win a major championship. We faced this harsh reality at Turnberry 2009 with Tom Watson, but Couples continues to get in the mix at this golf tournament year in and year out.
Fred has finished in the top-10 at the Masters four straight decades, and when asked if he thought he legitimately had a chance at a second green jacket in 2012, he simply said, "Yes, I believe I can win."
The answer was as cool as Couples. He answered it like someone asking if fries were a good side item. The moment might phase him internally, but he sure isn't showing it.
The problem with Fred is that now his mentality changes. He said he entered this week "hoping to be competitive" but now has to remove that thought and think of birdies, winning and yes, more birdies.
If he can somehow convince himself of all that, and go out playing this golf course the same way he approached it on Friday, we may just have the golf story of the decade.
I hope that back can carry all these expectations.

For more Masters news and updates, follow Shane Bacon and Eye on Golf on Twitter.