Phil Mickelson quietly moves into the mix at Masters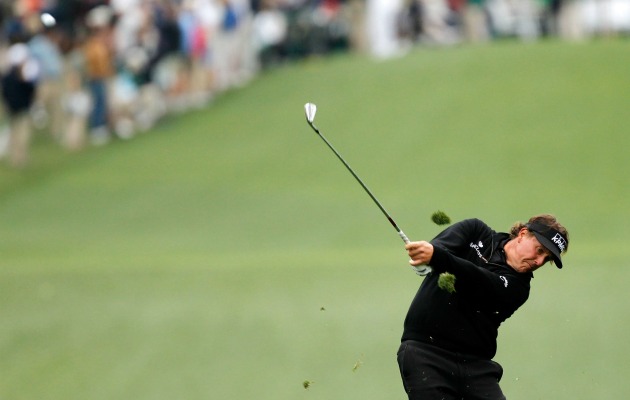 Phil Mickelson's 4 under 68 on Friday got him in the mix at the Masters. (Getty Images)
AUGUSTA, Ga. -- There were a lot of things happening Friday at Augusta National. Fred Couples stole the show with the round of the tournament. Jason Dufner put himself atop a major leaderboard for the fifth time in the past six major championship rounds. Sergio Garcia and Rory McIlroy played solid rounds to move up a stacked leaderboard.
So it makes sense that the second biggest name in golf got lost in the fray. Phil Mickelson, who opened with a sloppy 74 that was highlighted only by a 35-footer on the final hole for birdie, made his second straight birdie on the tough 18th hole to post a 4-under 68.
The move got him to 2 under and very much in the mix in a stacked Masters that could literally go any direction.
2012 Masters

Phil's round got off to a good start with consecutive birdies on No. 4 and 5, but it slowed when he played the next seven holes 2 over.
But in typical Phil fashion, the round turned completely around and he made four birdies over his final seven holes.
A lot of guys put themselves in a tough position and can't get out of it. They start making bogeys and see the gap between the top guy and themselves grow larger and larger. But there is an old golf saying that says you can't win a golf tournament on Thursday, but you can surely lose it, and Phil meticulously clawed his way back after his struggles in the opening round to be in a great spot come Saturday. So what exactly changed Friday?
"The biggest thing for me was strategically I didn't miss the ball in the wrong spot." Phil said. "If I got into some trouble or hit some poor shots, they are on the proper side where I could still get up-and-down and let my short game salvage strokes, which I did fairly well today."
Phil's finish both Thursday and Friday has Lefty very much in a position to do what Moving Day is all about Saturday, he's just going to need the momentum to start long before he gets to Amen Corner.
"I feel like Saturday is the day you can really make a move. Sunday you kind of cherish the back nine and it's exciting, but I feel like Saturday is the day you have got to play well to get yourself in position. Tomorrow will be a critical day."