MMSC: Bubba Watson, Augusta National and the 2015 British Open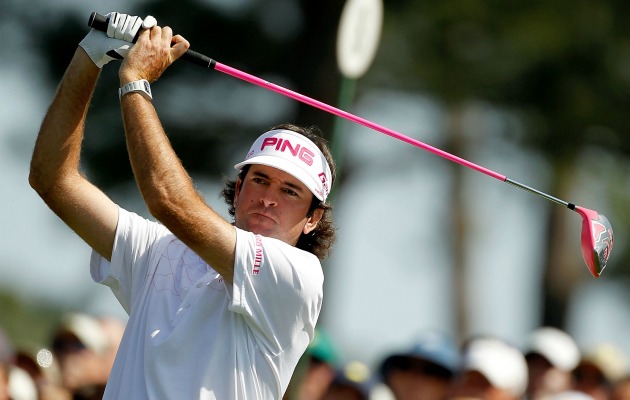 Why are left-handers so successful at Augusta National? (Getty Images)
Golf is probably the hardest sport in the world to play, and play well, so it makes total sense that everyone is a critic, and that's what we're going to do here at Monday Morning Swing Coach. Cover just the PGA Tour? Nope. We're going to try to expand this Monday feature to anything and everything that happened the past weekend.

A lot of things will be written about Bubba Watson's performance at Augusta National on Sunday. People will talk about his string of four birdies on the back nine and his two drives up the tough 18th that couldn't be placed more perfectly and definitely his wedge shot on the second playoff hole that won him his first Masters.
But one thing we could easily focus on is how Bubba continues the trend of left-handers winning at Augusta National.
Lee Trevino famously hated playing in the Masters because he was a right-hander that faded the ball, a no-no at Augusta, but as a lefty, the fade works perfect. Bubba has worked a lot in his career eliminating the right ball (even his Ping grip is placed a bit "open" as to promote the cut), and that helps him succeed at Augusta.
But what other reasons have five of the last nine Masters winners been lefty?
One of the reasons I see is the back nine par-fives. Those are the scoring holes over the weekend (Bubba played Nos. 13 and 15 5-under for the week with a bogey on Thursday), and while the tee shots are important (a long-hitting lefty like Bubba and Phil Mickelson can still hit driver on that hole while long right-handers normally go with the three-wood), I think it's the second shots that really help if you're a southpaw.
One of the keys to Augusta National is playing to the correct parts of the greens, but with long irons or even fairway woods, it can be tough to be exact, so coming in with a high cut, like a lefty can on the par-5s, helps them keep it in the right portion of the green, offering easier eagle and birdie putts.
Also, for a guy like Bubba, it is all the par-5s. Watson can hit that big cut he likes to play on both Nos. 2 and 8, and for someone like Bubba, who said Sunday night that hitting driver is his favorite club, it makes those holes easier and more manageable.
That's why the left-handers have an advantage at Augusta over someone right-handed.
Is this the start of something big for Bubba?
People like talking about Rory McIlroy as the heir apparent, and while I agree, he is incredibly good, there might not be a more talented golfer in the world than Bubba Watson.
The guy hits shots nobody else can, and isn't scared to hit them, and while it seemed early in his career he was a complete feel player, it's becoming more and more obvious that he can play just about any golf course (if you don't believe me, understand his two major championship playoffs came at complete different venues).
Now, this isn't supposed to be an insult, but Bubba might have the perfect mindset to go out and win other majors, mostly because it's "see ball, hit ball, far," or as he likes to call it, Bubba Golf. Go bang the golf ball on down the fairway and "if you have a swing, you have a shot."
Watson is exactly what golf needed, and if you think Augusta sets up well for him, wait until 2015 when the British goes back to St. Andrews. WIth the experience he has and his game continuing to refine, Bubba seems like a perfect candidate to take that Claret Jug. Why? Because of what St. Andrews asks golfers to do. Mainly, it's always miss left but never right (something Bubba bases his golf game around) and boom it on down the fairway with the idea that a real player must make up his own golf shot.
When the British gets to St. Andrews next, he's my pick.
Don't look too much into Tiger and Rory's play
If you thought of Tiger Woods and Rory McIlroy this week, you probably wouldn't have guessed that by Sunday evening they would have ended up tying at the Masters, but that's what happened, mainly because of a 77-76 weekend by Rory.
So what the heck went wrong for the both of them?
Honestly, they just didn't have much game this week. It's easy to sit here and point fingers at certain things, expecting both Tiger and Rory to always be in the hunt, but the bottom line is some weeks they're going to be off, like this week at Augusta National.
I'm sure they'd both tell you they're chalking it up to a week without their best stuff and moving on. We probably should too.