How have past Masters winners done in their return to the game?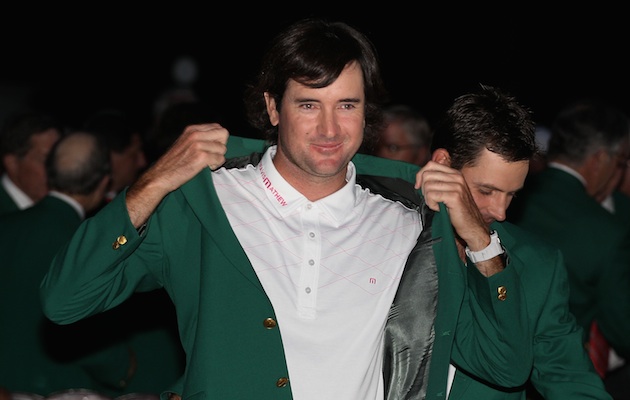 What return should we expect from the guy in the green jacket?. (Getty Images)
Earlier this month, Bubba Watson was just making contact with a gap wedge in a playoff at Augusta National that would hook 40 yards around trees, find the middle of the green, spin closer to the pin, and set up his first major championship victory. And while that ball was in the air, a lot of things were happening in the golf world, but the biggest thing that happens at every pivotal moment at every Masters is that shot, for those brief seconds, took a could-be champion from "professional golfer" to "celebrity spotlight."
This year was significant. Bubba Watson is the type of golfer that turns heads, and has non-golf fans rooting along. The way he plays the game, his larger-than-life drives and even the color of his Ping G20 head are all things that separate him from some other lesser-known players to win the Masters.
And when that final putt drops at each Masters, one life changes. You aren't just a golfer anymore, you're a guest on David Letterman and you're changing your cell phone number and you become an overnight sensation. Watson has endured all of these things, to a higher degree than most, and while it's all necessary and fun, the name of the game is golf, and Bubba's job starts back up on Thursday.
A year ago, Watson took home the Zurich Classic of New Orleans, his third PGA Tour win in less than a year when he beat Webb Simpson in a playoff. He's back to defend his title in 2012, but what should Bubba, and the general public, expect from a Masters winner returning to the office?
There have been a ton of different roads that green jacket takes.
Trevor Immelman missed two cuts in a row after his improbable Masters win, shooting rounds of 78-75-76-73 before a T-30 at the Memorial and a playoff loss at the St. Jude nearly two months after the green jacket ceremony. Sadly, that runner-up finish was about as close as Immelman has ever come to tasting another victory, going winless since that '08 Masters.
Phil Mickelson has three green jackets, and it seems all have taken him down different avenues. After his first win, in 2004, Phil took three weeks off, but came to New Orleans and finished T-2 and T-5 the week after at the Wachovia before the journey got a little much and he missed the cut at the Byron Nelson. In '06, Phil finished T-15 in his PGA Tour return, but was going for a third straight win after taking him the BellSouth Classic the week before Augusta. In 2010, Phil had his best chance to win back-to-back at Quail Hollow, and would have if not for a final round 62 by Rory McIlroy left Phil alone in second place.
Tiger Woods' post-Masters starts have also been a little all over the place. The years you think he might be able to win coming back (in 2001, '02 and '05) never produced a second consecutive victory, but he did that in 1997 after taking nearly a month away from golf before taking home the Byron Nelson in May.
Angel Cabrera missed his first cut after coming back from his playoff win two years ago, and Zach Johnson actually started the week after his win at the Masters and played well, finishing alone in sixth at the Heritage before winning the AT&T Classic just a month after his first major title.
The results of these players aren't really an evidence into anything except at some point, you'll hit that wall. Well, unless you're Charl Schwartzel. The 2011 Masters winner who reeled off four birdies over the last four holes to win his first major finished 11th the week after his Masters win at the Malaysian Open, and went on to not miss a single cut on the PGA Tour that season, having some solid finishes throughout a year he went 15-for-15 on the weekend.
Bubba sure seems like the type of player that could come out this week and win, mostly because it doesn't seem he thinks much of what happened the day before, or the week before, or the month before.
Exhaustion can take over just about everyone, but this is a golf course Bubba likes and has won on before, and he's entering the week with as much confidence in his golf game as he probably has ever had.
While there is no exact recipe for success, it seems a guy like Watson could have a couple of good rounds, get comfortable back in the swing of things, and sneak out with another solid finish. The good part is, no matter if he adds a fifth PGA Tour title to his resume or another missed cut, Bubba will leave New Orleans the same Masters champion he arrived as.