Saturday at Olympic Club more important for Tiger Woods than you may think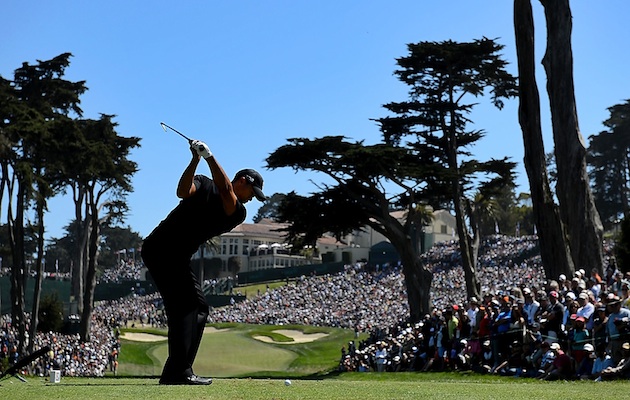 Tiger Woods is 14 for 15 when leading a major championship after 54 holes. (Getty Images)
SAN FRANCISCO - It's tough to say the third round of a major championship could be one of the most important rounds in the life of Tiger Woods, but Saturday at Olympic Club could be just that.
Tiger is simply a front-runner in majors, a guy that has won all 14 of the big four with the lead after 54 holes. Never has Woods been able to comeback in a major championship, and when he has the lead heading into Sunday, he's nearly unbeatable.
Look at a few of the numbers; Tiger is eight of nine when leading after 36 holes in a major, and 14 of 15 after 54 holes, a place he needs to put himself if he really wants to take down this U.S. Open on Sunday.
The way Olympic Club is set up, being ahead of guys and having the ability to play to the middle of greens and settle for pars is basically adding a 15th club in your bag. If Tiger can get there after 18 holes on Saturday, he will force other guys to shoot at flags they aren't supposed to, and try to make birdies that are simply not out there (co-leader Jim Furyk has made just four birdies all week at Olympic).
In the past, Tiger has dominated Moving Day. In his 14 major championship wins, Tiger holds a Saturday scoring average of 68.28, never shooting over 71, and posting third rounds scores of 71, 70 and 70 in his three U.S. Open wins. He knows that if he can gain ground on Saturday, the final round will simply be a mind game against the rest of the field, especially at a course that is as defensive at Olympic Club (and news flash, Tiger is pretty good at the mental side).
The different thing this week is just how tough Olympic Club is playing. Tiger usually feasts on the major championship that allows him to make a lot of birdies (11 of his 14 major wins were double-digit under par for Woods), and has never won a major when the winning score was over par. With this course drying out, that will most likely have to change.
And what about the guys chasing Tiger? You may look at Furyk and David Toms as the guys that will push him, but history says otherwise. When Tiger has really had to work for a major win, it was always a relative unknown. Y.E. Yang is the obvious example when he beat Woods down the stretch at the '09 PGA Championship, but look at some of the other names; Rocco Mediate, Bob May, Chris DiMarco and even Woody Austin at the '07 PGA.
With that out there, you might look at some names like Nicolas Colsaerts and John Peterson as two players that, if they're around the lead on Sunday, could give Tiger a similar run for money.
Still, Saturday is the day for Woods. If he wants to put himself in a similar position than he's been in during his 14 majors wins, he will need a solid day to pull clear of the rest of the field.