U.S. Open champion Webb Simpson will skip British Open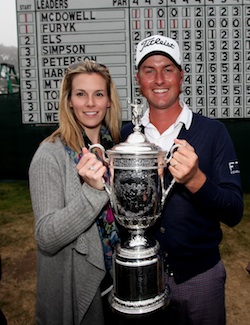 Webb Simpson and wife Dowd are expecting their second child in late July. (Getty Images)
There are few things in golf cooler than winning the U.S. Open, but having a chance to become the seventh man ever to win both the U.S. and British Opens in the same year might trump it.
Sadly, the newly crowned U.S. Open winner will not be making the trip across the Atlantic to try and claim both big Opens this year, deciding to stay home in anticipation of the birth of his second child.
Dowd Simpson's due date is late July, and Webb made the family decision to stay back and skip the July 19-22 major championship to be home with everyone at this exciting time.
"After winning, it's certainly a little bit harder to not go," Simpson said at the Travelers Championship. "But in the grand scheme of life, it's a decision I know I'll always be happy I made."
Webb isn't the first golfer to deal with due date issues during major championships. Phil Mickelson famously carried a beeper in his golf bag during the 1999 U.S. Open, telling the media that he'd leave the moment he got a page from his wife if she went into labor. Lucky for Phil, that never happened, and he finished second to Payne Stewart that year.
Ross Fisher faced the same dilemma in 2009, when he was leading the British Open at Turnberry before a final round 75 dropped him to a T-13. He had a private jet standing by in case his wife, Joanne, went into labor.
The latest was just a few days ago at Olympic Club, when Australian Jason Day, who finished second at the U.S. Open a year ago, said he'd leave prematurely if his wife, Ellie, went into labor back in Ohio.
Simpson doesn't seem to be taking these chances. Sure, if the event was in Florida I'm sure he would at least give it a go and then get out of there if his wife went into labor, but taking that chance with a six- or seven-hour flight ahead of you seems risky.
Webb, who finished T-16 in his only British Open appearance a year ago, will have plenty of majors in his future. The birth of your second child only comes once.