Once again, it's Tiger Woods and a chance at a major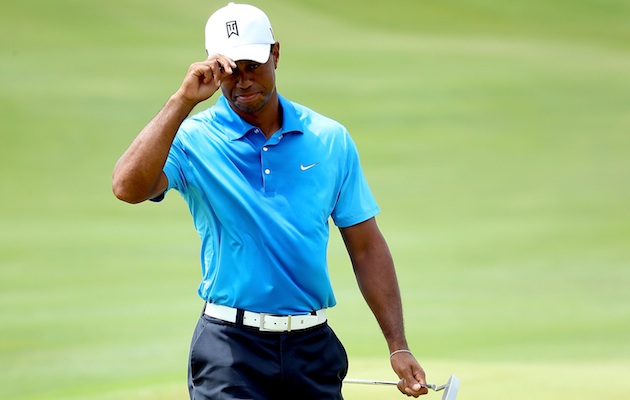 Tiger Woods hopes that Kiawah won't be the same as Olympic. (Getty Images)
So, here we are again.
Tiger Woods, a 36-hole lead at a major championship, and so many questions that we never used to ask.
Can Tiger actually close out a major these days? Is his ball-striking back, or just temporarily mended? Is this putting display he put on for the first 27 holes something that will last over the weekend? What happened on the 18th hole on Friday when Tiger three-putted for bogey, something that looked eerily similar to his Thursday close at Firestone a week ago?
More on PGA Championship
Related links
This story is basically the same as it was at the U.S. Open. Woods has looked better than anyone else through 36 holes at Kiawah Island and he sits at 4-under for the week, tied with Vijay Singh and Carl Pettersson. Woods' record in the past with a 36-hole lead was nearly flawless, but as we saw at Olympic Club, his game resembles a standard transmission these days and not an automatic. A bad swing here, a poor warm-up there, and the things could crumble around him.
But a few things have definitely gone right for Tiger this week. First thing is how well he's hitting the driver. Through 36 holes, Tiger has seemed to pace-down his swing with the big-stick and it's helped to eliminate any remnants of a big miss that could really cost him at a course like Kiawah. His iffy iron play was helped by a hot putter to start his round on Friday, when Tiger converted putt after putt as the wind continued to stiffen.
That said, Tiger wasn't without his nice breaks. Twice in his second round, Tiger hit short putts that went 360-degrees around the hole before dropping in, and his snap-hook on the 18th hole was only saved by a spectator tent down the left side of the fairway. And his lag putt on the par-5 16th hole was, in my opinion, one of the worst shots I've ever seen Woods hit, running it off the green and into a collection area, forcing Tiger to get up and down from a tough lie after most would assume he'd make birdie, but he was able to save par in some nasty South Carolina conditions.
So what are we supposed to think? It's tough to imagine Tiger will again fall apart over the weekend at a major championship, but this is what's happened lately. Woods has yet to break par over the weekend at a major this season, and despite that fact that he's looked so good for two days, our memories seem to battle with one another.
Is the guy that used to close these things like it was a five-dollar Nassau going to show up, or is the guy that slowly loses his golf game over the weekend going to be in full force yet again?
I do know one thing. It's Tiger's time right now to do it. Sure, he keeps putting himself in these positions at majors, but nobody, not even someone as mentally tough as Tiger Woods, can keep finding himself in the hunt at a major with all these expectations and eyeballs on him and continue to fall apart. Woods, for his own sake, needs to win this PGA Championship because taking home these trophies only gets tougher.
He's 36, and hasn't won a major in over four years. He's put himself in these spots in the past, both at this tournament and other majors, and failed to get No. 15.
His success on Friday showed that if the wind keeps up, Tiger can hold steady, but the loose swings are sure to still show up over the next two days. Can Tiger handle hitting a couple in the hazard like he did on the fourth hole in his first round, and can he handle the way he putted two of his last three holes on Friday?
The game seems to be there. For the first time in his career, we need to see if his head is as well.