Photo: Dog steals Paul Casey's golf ball off the green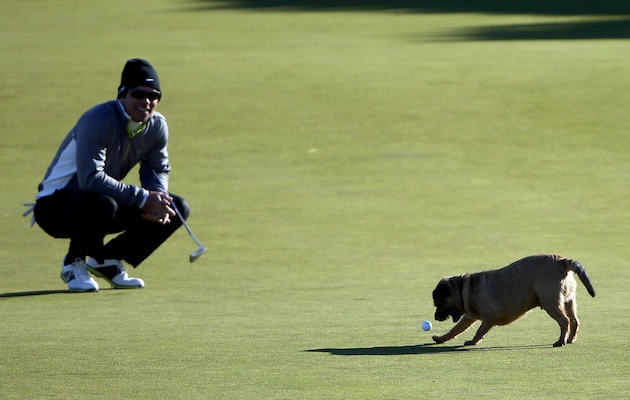 Normally hazards on golf courses aren't this darn cute. (Getty Images)
In my days, I've heard plenty of animal-related golf stories. I've heard of alligators jumping out of the water at unsuspecting hackers. I've heard of rattlesnakes lying close to a golf ball in a bunker, and I've heard of birds, well, relieving themselves on golfers while they putt. But man's best friend? Nah, not when we're out on the links.
That changed Friday at Kingsbarns, when Paul Casey was competing in the European Tour's Alfred Dunhill Links Championship and a pooch ran out and stole his golf ball while he was lining up a putt.
Yes, Casey was on the 12th green when the dog snagged his golf ball, and Ross Kinnaird of Getty Images was close enough to snap a couple of pictures of the action.
A spectator stopped the dog near the 13th tee and recovered his ball, and Casey was able to play it with no penalty and hopefully no slobber.
Considering Casey's season, this might have been the best thing that has happened to him on a golf course in 2012.