Payne, suffering: Augusta boss flinches over mixed messages, gender policy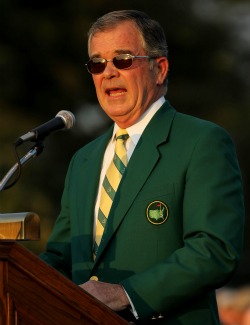 Augusta chairman Billy Payne speaks at last year's green jacket ceremony. (Getty Images)
AUGUSTA, Ga. -- The body posture completely changed, he shifted in his seat, and the tension in the room ratched up to a degree rarely experienced at Augusta National.
Likewise, the air conditioning in the media center was dialed down to "icicle," but there was no disputing the heat index was rising on Wednesday.
Augusta National chairman Billy Payne, having just proudly detailed the club's many attempts to "grow the game" internationally, had painted himself into a corner and there was no escaping. He teed himself up, handed a titanium driver to the critics and social progressives, and was sent flying into the trees.
"Golf is too precious, too wonderful, to sit on the sidelines and watch decreasing participation," Payne said, reading from his prepared script. "Whether we lead occasionally or follow always, it doesn't matter; it only matters that we try."
This would be filed under, "Follow always."
Payne, just like his predecessor, Hootie Johnson, wasn't going to budge when asked about the disconnect between his words and the club's exclusionary actions, and faced a series of increasingly awkward questions about how he could talk out of both sides of his mouth at virtually the same moment.
He set himself up, stuck out his jaw, dropped his hands, then went into a full-blown rope-a-dope. Generally media-savvy and proactive as it relates to positioning the club as an advocate of growing the game, the hollow hypocrisy of his words was missed by precisely nobody. He was progressive and regressive, all in one sitting.
Asked a series of respectful, probing questions about the fact that the most famous club in the sport has no female members, Payne deflected, deferred and dodged. It was awkwardness, defined.
It's not just that Augusta National is the top-rated course in the world, and excludes female members as a matter of policy, it's that club leaders have a place at the table in many other impactful arenas. The club has input on the world rankings, and was on the committee that lobbied to get golf added as an Olympics sport. The sphere of influence is massive and increasingly global -- this week's event will be televised in 200 countries.
The disconnect between Payne's words and the club's actions were obvious.
Q: Don't you think it would send a wonderful message to young girls around the world if they knew that one day they could join this very famous golf club?
Q. Seems like a mixed message, Billy. You're throwing a lot of money into growing the game, and yet there's still a perception that certain people are excluded.
Q. Mr. Chairman, as a grandfather, what would you say to granddaughters? How would you explain leading a club that does not include female membership?
Called strike one, two and three.
He repeatedly noted that club policy forbades speaking publicly about membership. The gender issue again came to the fore this year because IBM earlier this year named a female CEO, and the past four bosses at Big Blue were added as Augusta members.
A couple of times, the typically polished Payne seemed caught off guard, and stumbled to offer much of a response to questions that only obliquely addressed the gender policy.
Q. Mr. Chairman, as a grandfather, what would you say to granddaughters? How would you explain leading a club that does not include female membership?
"Once again, though expressed quite artfully, I think that's a question that deals with membership, and ..." Payne said.
Not so. It's a kitchen-table, personal question, it was noted.
"Well, my conversations with my granddaughters are also personal," Payne said.
The damage had been done. There was no stopping the bleeding.
Q. You said your conversations with your granddaughters are private. What would you suggest I tell my daughters?

"I don't know your daughters," Payne said. "I have no advice for you there, sir."