MMSC: Jason Dufner's win, Bubba's demeanor and why Tiger is missing the point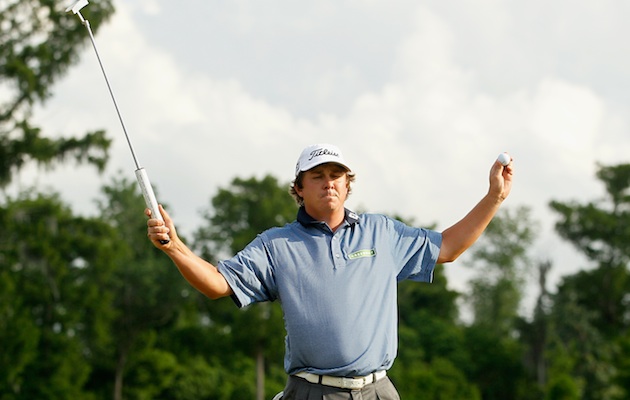 Jason Dufner celebrates his first PGA Tour win on Sunday at the Zurich Classic of New Orleans. (Getty Images)
Golf is probably the hardest sport in the world to play, and play well, so it makes total sense that everyone is a critic, and that's what we're going to do here at Monday Morning Swing Coach. Cover just the PGA Tour? Nope. We're going to try to expand this Monday feature to anything and everything that happened the past weekend.

The perfect storm for a first win
During the final round of the Zurich Classic of New Orleans, I leaned over to a friend as the holes dwindled and simply said, "The only way Jason Dufner is going to win this thing is if it comes down to him and Ernie."
No, it isn't because I don't think Dufner has game. Before the final round, I mentioned that he was arguably the best player in the world without a PGA Tour win, but winning a first event, especially after being in the hunt as many times as he's been, wears on your mind. Dufner gets asked constantly when he plays well early in the week if "this is the week," and yes, it's tough to get it done with everyone thinks you can't.
But going up against someone like Ernie Els, who is struggling with similar demons the last two seasons, was a good fit for Dufner, and turned out to be the recipe he needed to claim his first win.
Why?
Because when you get nervous, and are pressing for a win, the same things happen to just about every player. You miss shots in the wrong spot. Your putting stroke gets short and you push putts. You can't get out of your own way and just play golf the way you had for the first 70-something holes.
Ernie Els is a Hall of Fame golfer with multiple major wins and a golf swing that is the envy of nearly every player on the planet. He learned how to win even before he was ready, but he is 42-years-old now and has a putting stroke that is anything but syrupy, especially under pressure.
Multiple times on Sunday it seemed that Ernie was in a likely position to push Dufner's winning chances back another week but you almost could see it in his face down the stretch. He just couldn't get the important putts to drop. His stroke wouldn't allow it.
If you ever want to understand just how hard it is to win on the PGA Tour, watch a replay of the first playoff hole between Els and Dufner. Ernie was in a bunker short of the green that he gets it up and down 19 out of 20 times when there isn't any pressure, and still a solid percentage when he's under the gun. But he couldn't do it, settling for par and allowing Dufner two putts for the win. And Dufner, coming from an area he'd holed a putt earlier in the week for eagle, just needed to lag his putt up to a couple of feet and run away with the win, but he left his putt well short (a great example of pressure getting to a golfer) and couldn't covert the winning birdie putt.
I was happy to see Dufner win. By all means, he's a solid guy that keeps to himself and doesn't really get too emotional on the golf course (and by that I mean, he walks around the golf course with a look that says, "Did I remember to turn the iron off before I left the house?"). But this is the second time this year that Ernie has had a chance to breakout and win and he just couldn't find the fortitude on the closing stretch to do so. It's disappointing because at 42, and with the talent out there, Els might not have that many more chances to add to his legacy.
A serious Bubba
During the Sunday telecast, one of the broadcasters mentioned that Bubba Watson had really seemed to be into the weekend mentally, and after his missed his birdie putt on the 72nd hole, you could see (and hear) how emotional he was that it didn't go in.
To be completely honest, I was a little worried heading into the week that Bubba might be the type of player that would take weeks, even months, to totally get back that winning mentality that's needed to continue his great run on the PGA Tour, but his third round and basic demeanor in New Orleans showed that while the Masters win was great, he's still looking forward in his career and will continue to be a threat at these events, green jacket or no green jacket.
That is music to golf fan's ears.
Tiger's strange decision
You may have heard, but Tiger Woods is scheduled to push out a pre-taped video on Monday answering questions from fans, a first move by his team to help improve his social networking skills. I mentioned exactly what I thought of this idea earlier in the week, but thought I'd address the main issue of what a pre-taped video instead of a press conference in the media center exactly means to the future of golf.
Well, don't be shocked, but it means Tiger is going to start scaling back (even more than usual) his interaction with the media. Sure, that might not seem like a huge deal to the general public because it doesn't seem that Tiger ever really answers a question to begin with, but Woods deciding to handle questions, and press, on his own terms shows just how much power the guy actually has over his, and our, agenda.
Tiger can skip PGA Tour events for appearance fees overseas and that's fine, because if you and I were in his position, we'd probably do the same, but to decide on your own terms that you'd rather do a taped Q and A with fans instead of actually sitting in a room and answering questions from professional writers (and knowledgeable golf people) just seems too powerful.
Woods can do whatever he wants, and he almost always does, but if the guy really wants to reach the public in a different way, maybe he should work on his ability to answer a question properly in the media room and not what to say to a camera on questions you and your team are able to choose. It just seems that a move made for public relations isn't going to help, but actually hurt his image in the long run.