Eye on Golf Equipment: The Mizuno MP-R12 Wedges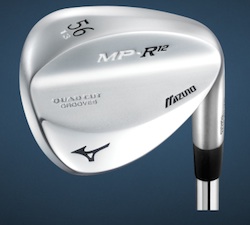 The new Mizuno MP-R12 wedges come in two different finishes, chrome and black nickel. (Mizuno)
Golf is a sport with ever-changing tools. There are drivers, putters, balls, towels, bags, socks, grips and everything in between. Here at Eye on Golf, we're reviewing the latest in golf equipment each week in hopes our words will help you make a better decision on what's best for you. This week, we look at the new Mizuno MP-R12 wedges.

Ideal handicap: Between 2 and 12
It's never a bad thing when a friend walks into your place, sees a new set of wedges on the wall and quickly admits, "If these were right-handed, I'd steal them."
That's what happened when the Mizuno MR-R12 wedges came in the mail. Mizuno's latest take on the most important scoring club in your bag have come out absolutely beautifully, mixing an aesthetically pleasing club with the performance we have come to expect from Mizuno.
The company focused on rounding the head more with the R-12 series of wedges, and produced a "Grain Flow Forged" wedge to give the true player more options with their shorter clubs.
The first two things I noticed in terms of playability is how smoothly the club seemed to cut through the grass, with the shaved back and rounded face, and just how soft the True Temper Spinner shaft made it.
I've swung a ton of wedges, and think that finding the right one is just as important, if not more important, than finding the right driver, but a lot of people still have their clunky old wedges in the bag, with worn-down grooves and a grip more slick than Augusta National's 10th green.
These wedges can change that. Yes, they might be made for the lower handicap player, but anybody that puts these in the bag is immediately going to gain confidence simply by how pretty they are. I've hit these things for a few weeks now, and they're still shiny and look brand new. The Quad Cut Grooves that Mizuno boasts hold up extremely well, are USGA appropriate and can really zip the ball back, especially from those tricky 40- to 70-yard distances.
I'm a three-wedge guy, and I have really enjoyed the versatility of these golf clubs. Unlike a lot of wedges out, the MR-R12s have chopped down that bulky heel part of the golf club that gets dangerously in the way during certain feel shots that you really need to hit close. I normally get my wedges grinded in that area, but it was nice to get a set already ready for play without any adjustments.
Mizuno continues to be one of the leaders in irons and wedges, and these do not disappoint. If you are looking for a new set of short clubs, or feel it's time to make a switch, go check out the R-12s. You'll be extremely satisfied by both their look and performance.
www.mizunousa.com, $119.99