Eye on Golf Equipment: Bushnell Pro1M Slope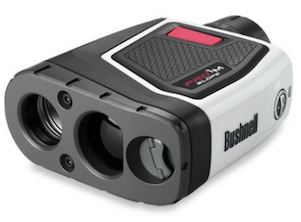 The new Bushnell Pro1M can get yardages up to 550 yards. (Bushnell)
Golf is a sport with ever-changing tools. There are drivers, putters, balls, towels, bags, socks, grips and everything in between. Here at Eye on Golf, we're reviewing the latest in golf equipment each week in hopes our words will help you make a better decision on what's best for you. This week, we look at the new Bushnell Pro1M Slope rangefinder.
Ideal handicap: All golfers
Let's face it, the days of walking off yardage are dead. No matter how old school you are, with your blade irons and cord grips, walking off distance from a sprinkler head just isn't practical anymore. There are plenty of gadgets out there that allow you the ability to get distances faster and more accurate, and all of this helps to speed up play for your group and the groups behind you.
But the decision you must face when deciding on a gadget is, what am I trying to accomplish? The new Bushnell Pro1M Slope rangefinder is the Cadillac of distance devices, and the thing is as beautiful as it is useful.
A lot of higher handicap players might not be interested in a device you must look through, and trust me, the initial versions of these devices were tough for older golfers to master, but the Pro 1M is so sharp that it's nearly impossible not to hit a flagstick. The technology they use is called Vivid Display, and it will quickly pick up whatever you're trying to shoot, and fast.
My initial reaction when I pulled this out of the box and started shooting random things around my neighborhood wasn't just how smooth the device looked, but how easy it was to snag skinny objects. I'm 28, but I'll admit that hitting a pin without a pixel device in it can be tough, but this is easily the best I've ever seen at getting a normal flag with nothing built in to help the golfer achieve a perfect distance.
The Pro1M also allow you 7x magnification, so that helps when you're trying to hit a bunker that's 250 yards out, instead of just peering through something that simply shows you a bunker that is 250 yards out. These devices are supposed to make you more comfortable on the golf course, because knowing exactly how far something is loosens up your golf swing (Personally, I think this is one of the biggest problems for amateur golfers, because they just stand up there and hit the ball without having any idea where something is or how far you're supposed to carry it).
Also, something I really liked about the Pro 1M compared to previous Bushnell models of their rangefinders was the battery door. In the past, the battery door was a bit clunkier, but the new Pro1M makes putting in and pulling out batteries as simple as it should be, with no chance of a break in the door panel.
Also, how sweet is that look? The white really pops the device, and I've had numerous golfing friends of mine comment on how awesome this Bushnell device looked, compared to previous models.
Rangefinders and GPS devices are a thing that any golfer needs in their bags, and if you are serious about hitting the right yardage on just about every green, look into the Pro1M Slope. It's the device that most professional caddies carry during practice rounds, and it is their job to hit these yardages spot-on. Wouldn't you want to do the same?
www.bushnellgolf.com, $499 ($599 with slope feature)