Eye on Golf Equipment: Ping Nome Putter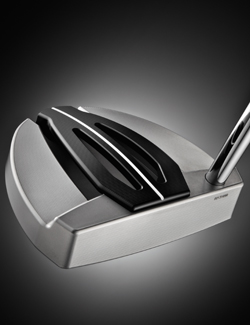 The Ping Nome is one of the hottest golf clubs on the market right now. (Ping)
Golf is a sport with ever-changing tools. There are drivers, putters, balls, towels, bags, socks, grips and everything in between. Here at Eye on Golf, we're reviewing the latest in golf equipment each week in hopes our words will help you make a better decision on what's best for you. This week, we look at the Ping Nome putter.

Ideal handicap: All golfers

For all the equipment in this enormous golfing world we live in, the most evolved, eccentric and misunderstood piece is the putter. It's the quarterback of golf clubs, one that touches each green and is where we gain or lose the most amount of strokes. It is the golf club that we should pay the most attention to, and the one that is our best friend today and our worst enemy tomorrow.
And few putters make quite the cannonball that the Ping Nome made. A mallet putter that was introduced earlier this year landed an exclamation mark when Hunter Mahan put it in his bag and immediately won the Accenture Match Play, while putting like Ben Crenshaw met Brad Faxon. It was a beautiful display in the Arizona desert, and most golf fans were focused on that little piece of equipment he had in his hands, with few putters landing as much demand as this 355-gram mallet did.
So why is it flying off the shelves and forcing Ping to have their machines running 24/7 to produce enough high-grade aluminum for the golfing public?
First, it is easily the best looking mallet Ping has ever made. They have had some home runs before with mallets, but this one really runs in line with the products they're pumping out now, especially the i20 driver. The black alignment bar isn't as drastic as some other mallet models we've seen in the past, and the simple white line that runs across the top is there to help get the golfer in the proper spot the moment he steps up to his golf ball.
My initial thoughts with the putter was just how soft it was when you hit a putt. A lot of mallets make you feel like you're swinging a Volkswagen, but the Nome had great feel and never made you feel like you'd pound the ball past the hole on slick greens.
I used to be a blade type of guy, but the introduction of a mallet like the Nome makes any golfer, no matter the handicap, take notice because of how the putter is put together. The high-grade aluminum literally comes in block form, and they mill the putter out of it, making the entire Nome one solid block that helps both the look and the feel.
On top of that, the putter offers you different looks to it, coming in both regular and belly options, and also comes in three styles that helps fit perfectly to your putting stroke. (if you're ever going to take my advice on golf equipment, take this; you need to get fit for a putter. It's essential and will help shave strokes off your game faster than anything you can do with a driver, fairway wood or iron.)
I put the Nome in my bag because I think it is one of the better putters made in the last five years, and really lines up well behind putts. I instantly noticed that five-footers seemed to fall more because I could really get behind the ball with confidence that I was lined up at the right spot. Some putters seem to lie open or closed behind the ball, but the Nome is one that sits perfectly the golf ball for me and allows me to hit those short putts with confidence.
Mallets are normally great for lengthy distances, but to find one that is this good around the cup was a breath of fresh air and an easy choice to make the bag.
www.pinggolf.com, $249