Father's Day Gift Guide: What golf ball to buy?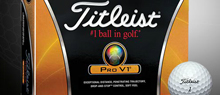 The Titleist ProV1 is the easiest ball to use and your dad would smile if he opened up a dozen of these on Father's Day. (Titleist)
Father's Day is just days away, and while we all love our dads, we love procrastination more. But no worries, there is still plenty of time to get your dad a little something to say thanks. You might not know a ton about golf, and your dad might play nine holes a day, so we decided to toss together a simple golf ball gift guide to help you pick out which balls dad might want.
Titleist ProV1 -- The easiest and most classic of golf balls, the ProV1 is sure to make any father smile that plays golf regularly. It's the golf ball all the Titleist professionals use, so if you dad isn't a regular golfer, you might look down the list, but anyone would be happy to land a dozen of these bad boys. www.titleist.com, $47/dozen
TaylorMade Penta TP5 -- The golf ball I've been using the last few months, the Penta is both professional and durable, which is nice when you're hitting it in the Arizona desert a lot. The newest version of the Penta is perfect for a dad that enjoys getting out on the course a few times a week, and if he hasn't hit the ball yet, it'll be a nice surprise for him. Also, you can order any number from 00-99, so if your dad has a favorite number that is a nice, personalized touch. www.taylormadegolf.com, $45/dozen
Maxfli U/4x -- Maxfli is back in the golf ball game with authority with the introduction of the U-Series golf balls, and they are really, really solid for the price. The U/4 is a little softer but the U/4x is a perfect ball for a dad looking to add a couple of yards off his driver. www.maxfli.com, $39/dozen
Bridgestone Tour B333-RX Yellow -- It really is amazing how much easier it is to find a yellow golf ball when driving around in a cart, and it isn't a newsflash that the older you get, the worse your eyesight seems to be. The Bridgestone line of yellow golf balls has been a staple for men like my uncle, who enjoy the ball and the color more and more. www.bridgestonegolf.com, $44.99/dozen
Nike 20XI-X -- Hey, who doesn't like playing the ball that Tiger Woods represents?! The Nike 20XI line is a solid one, and the "X" version of the ball is a little harder and goes a little further. If dad is a short hitter, or a Tiger fan, this is a must-buy. www.nikegolf.com, $45/dozen
Noodle+ -- So your dad isn't a huge golfer, but he could use some golf balls to beat around his local course. The Noodle+ is a great ball for the price, definitely the golf ball I buy my dad when he needs some replacements. www.noodlegolf.com, $14.99/dozen