Alternate reality: Are you ready for a 14-year-old in the U.S. Open?
SAN FRANCISCO – It's a chain reaction that will be felt all the way to Asia.
When PGA Tour veteran Paul Casey withdrew on Monday at the 112th U.S. Open, it opened the door for a 14-year-old player who originally hails from China to gain a spot in the field at Olympic Club.

It's historic stuff.
Andy Zhang, who now lives outside Orlando, Fla., and is coached at David Leadbetter headquarters at ChampionsGate, lost in a playoff at the Florida Sectional qualifier last week, but now will become the youngest player in U.S. Open history.

Zhang lost in a playoff at Black Diamond in Lecanto, Fla., last Monday. He finished with rounds of 70-72 at Black Diamond and would have been the youngest player in Open history by roughly a year, had he made the field at Olympic Club.
Now, it turns out it was good enough after all.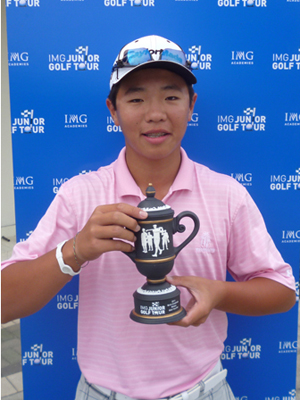 Andy Zhang, 14, will become the youngest golfer to play in the U.S. Open on Thursday (IMG Academy)

Zhang is 14 years and 6 months old. The youngest player to tee it up in an Open previously was Tadd Fujikawa, who was 15 years, 5 months old.
Zhang was already in San Francisco when the withdrawal was announced and has already signed in for the week. He is coached by Andrew Park, a longtime Leadbetter instructor, who discovered Zhang while watchng another Chinese prodigy, Mu Hu, several years ago.
Zhang has been in the States since he was about 10 and is already 6 feet tall, weighs 185 pounds and has a PGA Tour-level swing speed of 115 mph, Park said.
"Andy hits it miles and miles," Park said. "He's got a very good head on his shoulders. He couldn't speak any English when he got here, and now we can't keep him quiet. He is very outgoing."
Park said that Zhang has been playing in mini-tour events already in the Central Florida area, including the Moonlight Tour.
"He's actually been winning a bunch of those," Park said.
Zhang is a native of Shandong, China, and isn't set to graduate from high school until 2016.

He immediately signed up for practice session on Tuesday morning and will play alongside Masters winner Bubba Watson and Australian star Aaron Baddeley.