World rankings looking uneasy as 1-2-3 after first round at Olympic Club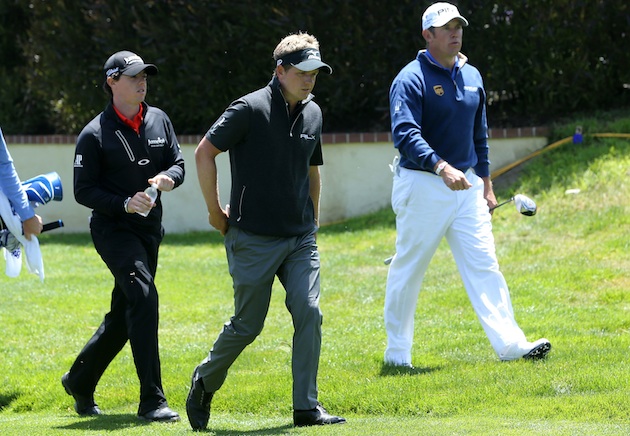 Luke Donald, Rory McIlroy and Lee Westwood combined to shoot 19-over par in the first round . (Getty Images)
SAN FRANCISCO – It was a bolt from the blue.
At least, at the time.
Eleven months ago at the British Open, players ranked Nos. 1-2 in the world both missed the cut at a major championship for the first time in history at the same event.
More jarring was the fact that the players holding those positions at the time, Englishmen Luke Donald and Lee Westwood, were playing on home soil and weren't around for the weekend.
Different Open, same result?
After a brutal afternoon in which they played in the same threesome, No. 1 Donald and No. 2 Rory McIlroy will need to muster some serious firepower after Thursday's major meltdown at Olympic Club.
Sputtering from start to finish, defending champion McIlroy shot 77 and top-ranked Donald was even worse, making pars on the last two holes just to break 80 by a stroke.
The third member of the group, world No. 3 Lee Westwood, might also spend the second round on Friday doing the cutline tango if he drops any more shots. He shot 73.
"Well, the top three the in the world and we make three [birdies] between us," Donald said. "It shows how tough it is. They're aren't that many opportunities out there. Some hole locations with the firmness of the greens and the direction of the wind, the best case you're going to do is 20 feet.
"So it's a challenge. I tried to stay patient, tried to stay positive, but when I had those opportunities on the greens I couldn't take them."
Indeed, if Westwood backs up, it could be a Friday of slamming trunks for Nos. 1-2-3 – which would represent another Grand Slam first at the same event. This year, the Open eliminated the 10-shot rule and the cut will include only the low 60 players and ties.
Donald needed to par the last two holes to shoot 9-over 79, the same score recorded by 14-year-old amateur Andy Zhang, who just graduated from the eighth grade.
McIlroy's last three major championship rounds, dating to the weekend at the Masters, are 77, 76 and 77.
Donald, who had nine bogeys and no birdies, has never finished better than T12 at the U.S. Open and labored to keep the ball in play. He missed nine of 18 greens and found six of 14 fairways.
McIlroy, who ran away to win by eight strokes in an impeccable performance at Congressional last June, only found six of 18 greens in regulation. Amazingly, last year, he hit 62 of 72 greens en route to the runaway victory.
Translated: McIlroy missed 12 greens on Thursday and 10 over the entire 72 holes last year.