International qualifying for British Open has 10 in at Royal Lytham & St. Annes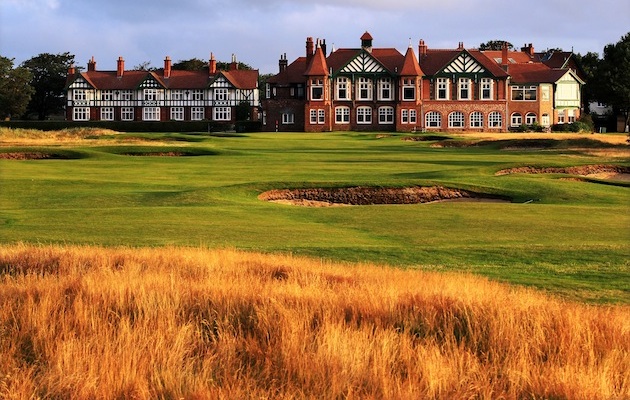 Ten guys landed a spot in the 2012 British Open on Monday at the International Finals Qualifying. (Getty Images)
The International Final Qualifying had a ton of pros going at it on Monday in Sunningdale, England, and 10 guys landed a spot in next month's British Open.
James Morrison of England was medalist, shooting rounds of 63-68, while Ross Fisher and Alejandro Canizares were among the notables that were able to punch their Open tickets.
Some of the names that didn't qualify? Matteo Manassero, Colin Montgomerie, and Tom Lewis. The entire field scores are below, with Lee Slattery and Thorbjorn Olesen surviving a five man playoff for two spots.
International Final Qualifying Results
1 MORRISON, James England 63 68 131 -8 Qualified
2 WALKER, Sam England 68 65 133 -6 Qualified
T3 CANIZARES, Alejandro Spain 68 66 134 -5 Qualified
T3 FINCH, Richard England 67 67 134 -5 Qualified
T3 BALDWIN, Matthew England 69 65 134 -5 Qualified
T3 DONALDSON, Jamie Wales 72 62 134 -5 Qualified
T3 FISHER, Ross England 64 70 134 -5 Qualified
T3 FRASER, Marcus Australia 66 68 134 -5 Qualified
T9 SLATTERY, Lee England 67 68 135 -4 Qualified
T9 FISHER, Oliver England 69 66 135 -4
T9 OLESEN, Thorbjorn Denmark 67 68 135 -4 Qualified
T9 FORSYTH, Alastair Scotland 69 66 135 -4
T9 FLOREN, Oscar Sweden 69 66 135 -4
T14 STERNE, Richard South Africa 69 67 136 -3
T14 MANASSERO, Matteo Italy 68 68 136 -3
T14 JOHNSTON, Andrew England 71 65 136 -3
T14 HEDBLOM, Peter Sweden 71 65 136 -3
T14 BLAND, Richard England 67 69 136 -3
T14 MONTGOMERIE, Colin Scotland 66 70 136 -3
T14 GALLACHER, Stephen Scotland 68 68 136 -3
T21 ANDERSSON HED, Fredrik Sweden 68 69 137 -2
T21 LOWRY, Shane Republic of Ireland 69 68 137 -2
T21 KARMIS, Peter South Africa 68 69 137 -2
T21 CAMPILLO, Jorge Spain 70 67 137 -2
T21 BRIER, Markus Austria 71 66 137 -2
T21 BOURDY, Gregory France 70 67 137 -2
T21 HORSEY, David England 69 68 137 -2
T21 DE LA RIVA, Eduardo Spain 69 68 137 -2
T21 WEBSTER, Steve England 69 68 137 -2
T30 DUBOIS, Edouard France 69 69 138 -1
T30 DENISON, Daniel England 71 67 138 -1
T30 FICHARDT, Darren South Africa 71 67 138 -1
T30 OLAZABAL, Jose Maria Spain 67 71 138 -1
T30 FASTH, Niclas Sweden 69 69 138 -1
T35 ELSON, Jamie England 71 68 139 Par
T35 WATTEL, Romain France 70 69 139 Par
T35 KIEFFER, Maximilian Germany 69 70 139 Par
T35 QUESNE, Julien France 70 69 139 Par
T35 NORRET, Thomas Denmark 69 70 139 Par
T35 WILLETT, Daniel England 69 70 139 Par
T41 COLES, Robert England 67 73 140 +1
T41 BENSON, Seve England 66 74 140 +1
T41 JAMIESON, Scott Scotland 70 70 140 +1
T41 WAKEFIELD, Simon England 66 74 140 +1
T41 HOWELL, David England 66 74 140 +1
T41 GREEN, Richard Australia 69 71 140 +1
T47 HUTSBY, Sam England 70 71 141 +2
T47 DIXON, David England 70 71 141 +2
T47 LAWRIE, Peter Republic of Ireland 72 69 141 +2
T47 LITTLE, Sam England 71 70 141 +2
T47 TULLO, Mark Chile 71 70 141 +2
T52 DODT, Andrew Australia 68 74 142 +3
T52 GONNET, Jean-Baptiste France 70 72 142 +3
T54 HARTO, Andreas Denmark 72 71 143 +4
T54 MOUL, Jamie England 69 74 143 +4
T54 LASKEY, Mark Wales 73 70 143 +4
T54 ILONEN, Mikko Finland 72 71 143 +4
T54 JONZON, Michael Sweden 71 72 143 +4
T59 VAN DER WALT, Tjaart South Africa 74 70 144 +5
T59 LEWIS, Tom England 72 72 144 +5
T61 CARLSSON, Magnus A Sweden 72 73 145 +6
T61 DAVIES, Rhys Wales 73 72 145 +6
T63 SOUTHGATE, Matthew England 72 74 146 +7
T63 BARHAM, Benn England 68 78 146 +7
65 SMITH, Bradley Australia 75 82 157 +18
LEE, Craig Scotland 68 NR NR
BEEM, Rich USA 71 NR NR
FOSTER, Mark England 70 NR NR
SANTOS, Ricardo Portugal 75 WD WD
SINGH, Jeev Milkha India 74 WD WD
AGUILAR, Felipe Chile 72 WD WD
EDBERG, Per Sweden 67 WD WD
LEVET, Thomas France NR WD WD
MONASTERIO, Cesar Argentina 74 WD WD
STORM, Graeme England 72 WD WD
FLEETWOOD, Tommy England 71 WD WD
DEL MORAL, Carlos Spain 75 WD WD
WARREN, Marc Scotland 71 WD WD
WILSON, Oliver England 72 WD WD
MCEVOY, Richard England 70 WD WD
NILSSON, Christian Sweden 71 WD WD
DRYSDALE, David Scotland 73 WD WD
KJELDSEN, Soren Denmark 72 WD WD
HEBERT, Benjamin France 78 WD WD
FERRIE, Kenneth England 71 WD WD
DREDGE, Bradley Wales NR WD WD
RUSSO, Charles-Edouard France 82 WD WD
RUMFORD, Brett Australia 72 WD WD
GOYA, Estanislao Argentina 73 WD WD
WHITEFORD, Peter Scotland 72 WD WD
MARTIN, Pablo Spain 77 WD WD
BOYD, Gary England 75 WD WD
PARRY, John England 73 WD WD
SJOHOLM, Joel Sweden 74 WD WD
ZANOTTI, Fabrizio Paraguay 76 WD WD
MCGINLEY, Paul Republic of Ireland 75 WD WD