Eye on Golf Equipment: The adidas golf Puremotion golf shoes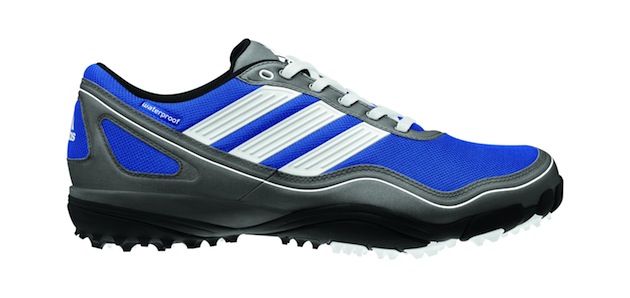 Golf is a sport with ever-changing tools. There are drivers, putters, balls, towels, bags, socks, grips and everything in between. Here at Eye on Golf, we're reviewing the latest in golf equipment each week in hopes our words will help you make a better decision on what's best for you. This week, we look at the adidas Puremotion golf shoes.
Ideal handicap: All golfers
I'll be honest, golf companies these days will try anything to hit the golf shoe marketing running (no pun intended, of course). The shoe industry is one that continues to grow, with new companies popping with this idea or that to give the golfer the best experience. At times, I feel that golfers really just want a golf shoe with spikes to go out and play like they used to, and that idea dies the moment a shoe like the adidas Puremotion shows up at my doorstep.
The Puremotion was inspired by barefoot training, and the bottoms almost look like those toe-shoes you see guys wearing at the gym or on the hiking trail. The new wave of thinking in golf is how can you get the golfer and the earth to mesh better, and the Puremotion does just that.
I live in Arizona, and if you know anything about the American climate, you know that it ain't exactly parkas and snow boots around these parts in August. Landing a breathable pair of golf shoes is important for a guy like me, and these shoes come fully equipped. (btw, I never realized how important breathability was in shoes until I moved out here. It's HUGE. I can't golf in things that don't allow my feet to get some air for 5 hours.)
On top of that, they're incredibly lightweight, and really do their job of getting you in touch with the grass in the fairways, the sand in the bunkers and eventually, the greens.
The best part? These things are waterproof, so on top of being able to breath and provide you with a great feel, you don't have to worry about your feet getting wet if a monsoon or two blow through.
The bottoms of the shoe allow for a spikeless type of look, but I didn't feel any slipping or sliding on the golf course, even in wet conditions.
All in all, I'm into the Puremotions, and love the color schemes they come with (along with the blue you see above, they have black/red and white/silver with some cool blue highlights.)
www.adidasgolf.com, $120