Tiger Woods starts hot, ends cold at Firestone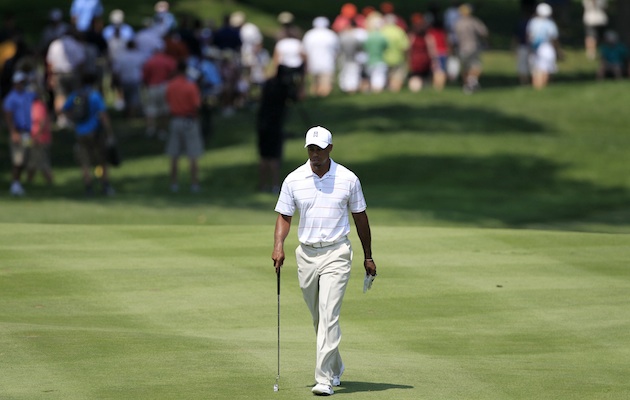 At one point on Thursday at the WGC- Bridgestone Invitational, it looked like Tiger Woods would do to Firestone what Tiger Woods has always done to Firestone.
Three-under after 11 holes, Woods admitted after that he "hadn't made a thing" to that point, but was well in the hunt at a tournament he has won seven times. But that's the thing about Tiger these days. Despite the three wins and being in contention at majors, the guy's golf came isn't exactly the tuning fork it used to be. For 11 holes, Tiger was in complete control of his golf game, doing exactly what he needed to do in the first round of a World Golf Championships event, but as quick as it showed up, his game went cold.
Woods' first bogey of the day, on the par-4 13th, came when the worst part of his golf game in 2012 showed up again. He whiffed the green with a wedge from the middle of the fairway, and couldn't get up and down from a relatively easy position in the rough, missing a short putt for par. He followed that up with a drive on the par-5 16th that sailed right (his miss du'jour) and after punching out, decided to lay up short of the pond-guarded green, but another clunky wedge left him a 20-footer for par that he couldn't convert.
Tiger was still 1-under for the day, only six back of leader Jim Furyk who carded a salty 63 on Thursday, when he came to the final hole at Firestone, but another drive went right, and after finding the green from the rough, three-putted for bogey to put the finishing touches on a disappointing final six holes.
Woods told The Golf Channel after, "I hit the ball very well but putted atrociously," a standard-issue quote from the quote machine but pretty spot-on about the putting. Tiger found 14 greens but needed 33 putts, a number that'll have to shrink drastically if he wants to claim the Firestone title for the eighth time.
What does this round mean compared to his wins here in the past? Well Tiger's Thursday scoring average when he has won this event on this golf course is an incredible 66.4, never posting above 68 in his opening when he's left Firestone with the trophy. The only bright side to all this is when Tiger wins now, like in 2012, he doesn't really need to get off to that hot of a start. In his three wins this year, Woods has broke 70 just once, and is averaging a little over his score on Thursday in those three victories.
Still, it was a strange day all-around for Tiger. A great start without anything really crazy happening and Tiger right where he has been in the past here at the Bridgestone, but as confused as he seemed with the greens and as quick as his game was to disappear leaves the rest of the week an absolute toss-up.